You might have a different picture of Hiroshima from your history books: a city in rubbles because of World War II and the atomic bomb explosion in 1945. Upon setting foot at the city, however, you'll soon realize that Hiroshima is as modern and as bustling as Japan's other key cities.
Hiroshima Station, one of the busiest stations in the prefecture, is the gateway to other cities in the area as well as to those along its fringes. It also connects and transports tourists to several destinations and attractions within the city. If you're planning to travel by land during your trip, several buses make a stop at the Hiroshima Bus Center which allows you to venture out into other cities as well. Should you decide to spend some time exploring the city of Hiroshima, we've made a list of a number of attractions and activities you can visit and do during your stay.
---
Hiroshima Pocket Wifi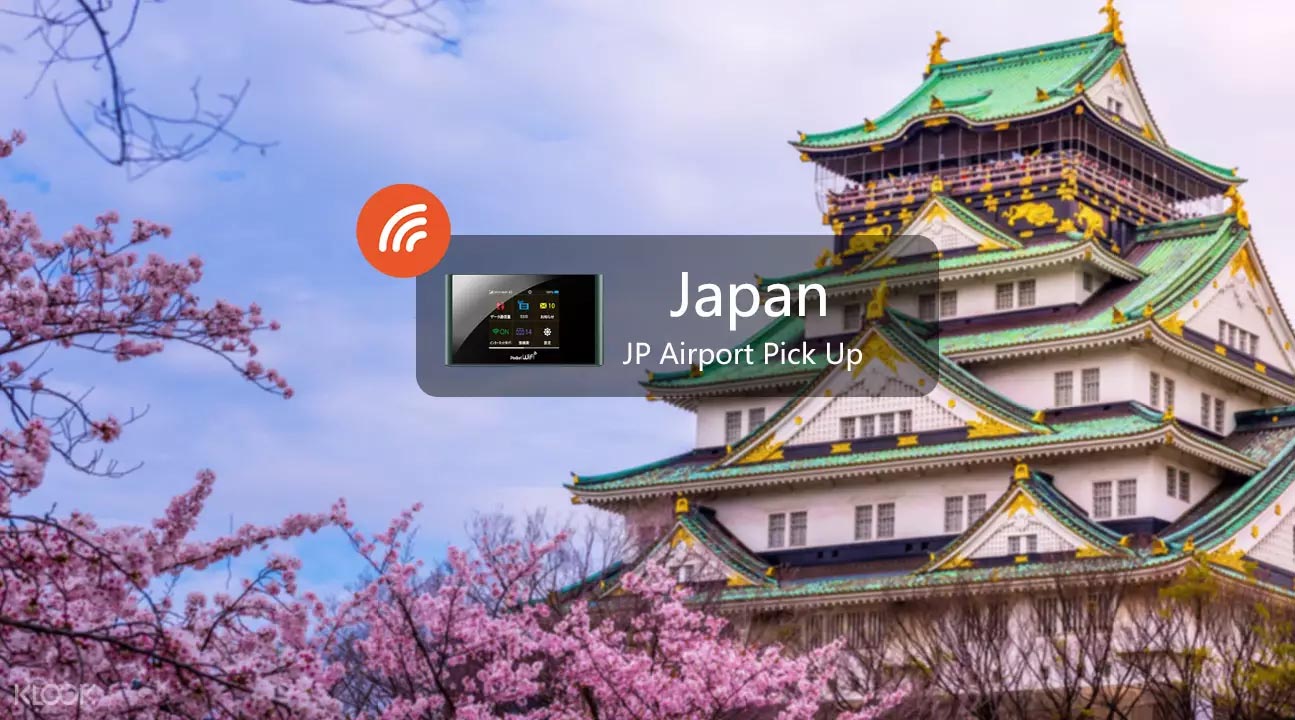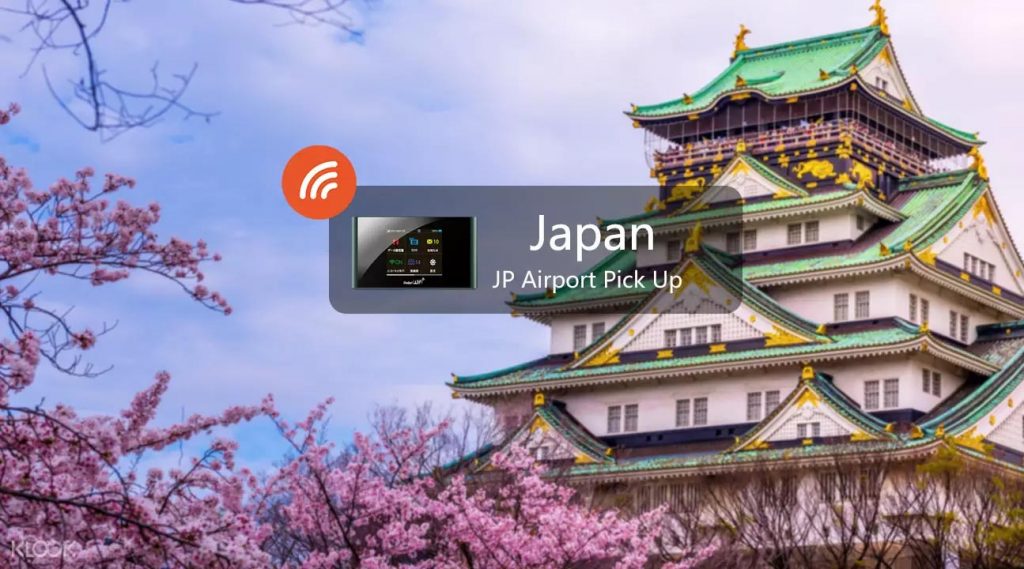 Having a reliable internet connection can help you save time and money. You'll need this to access Hyperdia or Google Maps as you explore the city, converting yen to your currency and translating signs.
Klooks offers an unlimited 4G LTE pocket wifi service that you can pick up at Kansai Airport and return it to any major airport in Japan. It can also connect up to 14 devices which everyone in your family or group can use. You need to reserve before your trip because they run out quickly.
➡️ RESERVE HERE
---
Hiroshima Peace Memorial Park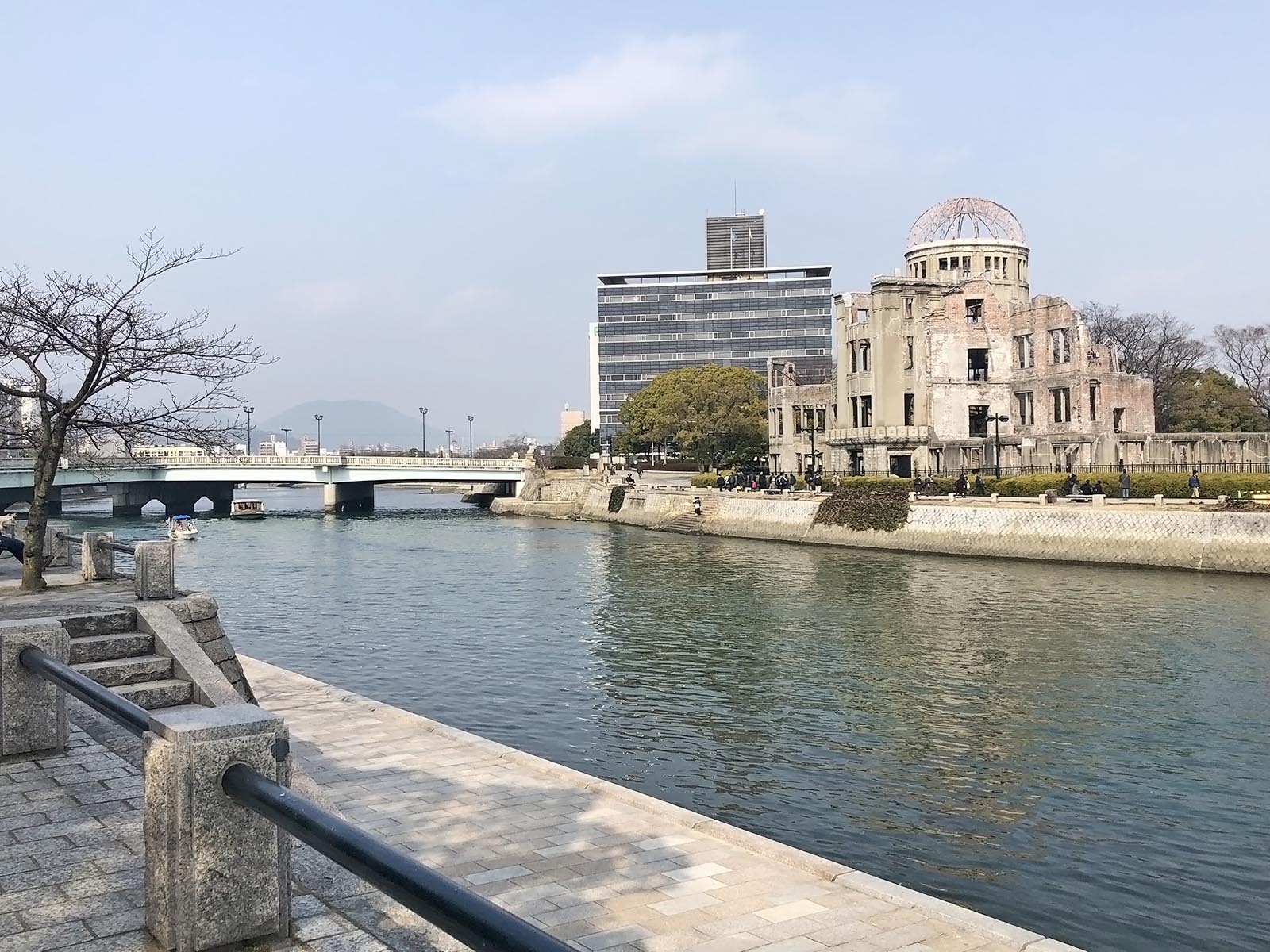 You can find the Hiroshima Peace Memorial Park near the central area of the actual atomic bomb explosion that happened in 1945. In case you were wondering, the main reason the area became the target of the attack was because, back then, it was part of the trade district of Nakajima. It was also where most residential houses were found.
The memorial park was built to commemorate the lives lost during the war, and stand as a reminder of the terrifying effects of nuclear weapons. You will find several museums, monuments, and memorials built to serve as a lesson to future generations to always choose peace instead of war.
Hiroshima Peace Memorial Museum. This is one of the most important structures inside the park complex. It has two separate buildings. Each building features the timeline and events that happened during the atomic bombing and the destruction it had caused to the whole city. You can find different war memorabilia like photos and newspaper clippings on display.

Admission Fee: ¥200
Operating Hours: 8:30 AM – 6:00 PM (until 7 PM in August, and 5 PM from December to February); will refuse entrance to visitors 30 minutes before closing time.

Note: There is a renovation happening in the area and one of the two buildings was closed when we visited during the early half of 2018.

A-Bomb Dome. This was also known as the Prefectural Industrial Promotion Hall before that fateful day in August 6, 1945. It is an elegant, European style building – one of the very few structures in the city that survived the bombing. It's also been hailed as a UNESCO Heritage Site in December 1996.
Other structures inside the park: Children's Peace Monument, Cenotaph for the A-Bomb Victims, Cenotaph for Korean Victims, Flame of Peace, Rest House, Peace Bell, Gates of Peace, Memorial Tower to the Mobilized Students, Hypocenter Plaque, Atomic Bomb Memorial Mound, Hiroshima International Conference Center, Hiroshima National Peace Memorial Hall
How to Get There: From JR Hiroshima Station, ride either Tram 2 or Tram 6 to Genbaku-Domu Mae Station (A-Bomb Dome Station).
Travel time: Approximately 15 minutes
Fare: ¥180.
---
Hiroshima Castle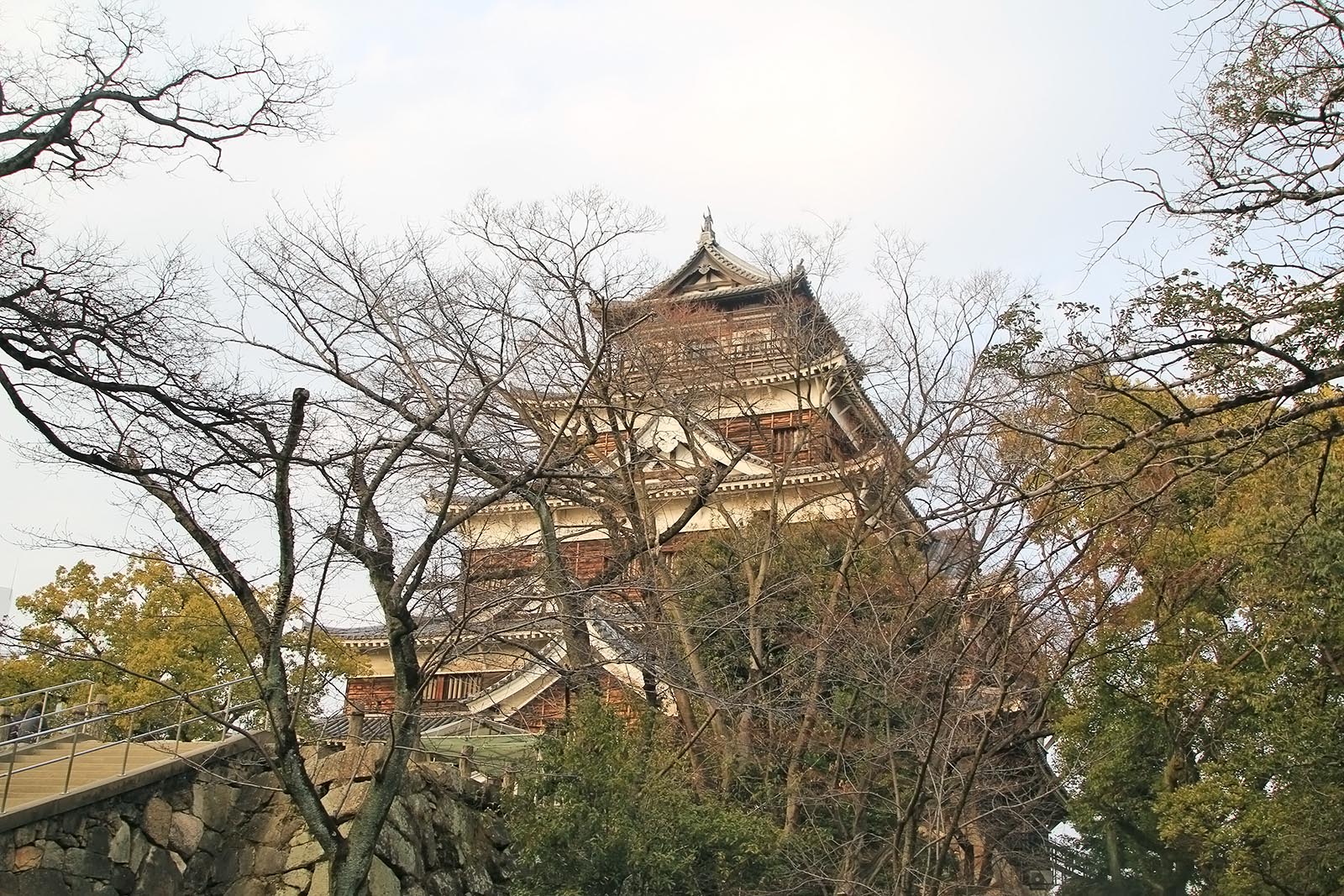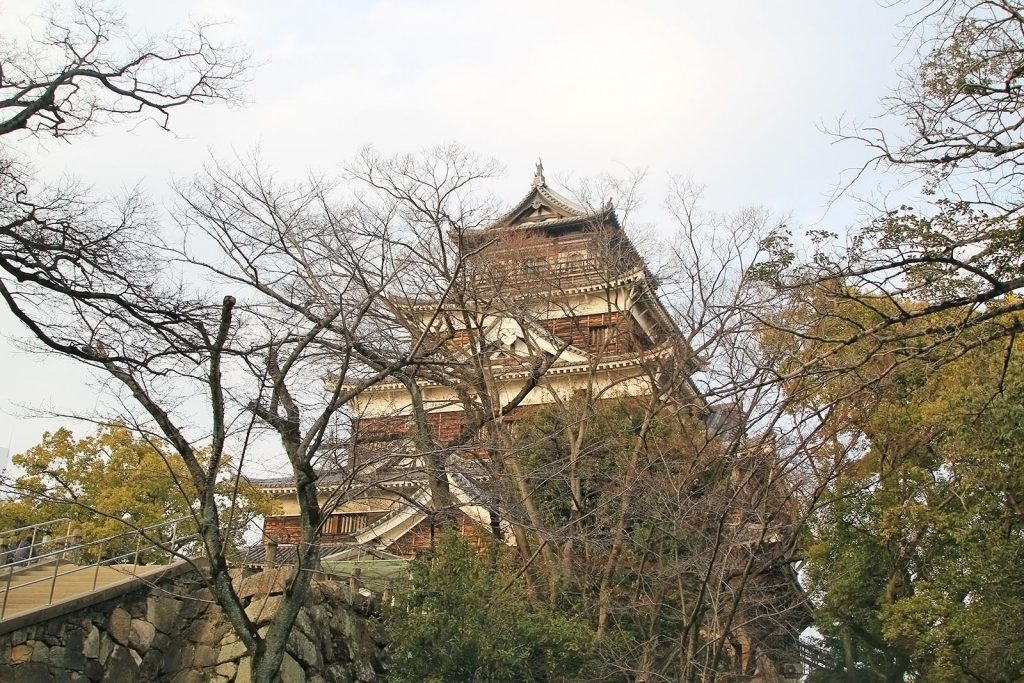 Unlike most castles in Japan which are either on top of a hill or resting on a higher ground, the Hiroshima Castle sits on a plain. Constructed in the 1950s, it was where the feudal lords dwelled. It was nicknamed the "Carp Castle" because of the area where it was built: Koi-no-ura, meaning "Carp Sea Shore".
After being destroyed in the atomic bombing, the castle was reconstructed, retaining several of the original materials like the concrete walls and the foundation. Considered one of Japan's National Treasures, the five-story structure has a roof deck that affords a bird's eye view of the city. It is also situated inside the Chuo Park where you can also find the Hiroshima Museum of Art, the Hiroshima Children's Museum, and the Gokoku Shrine.
If you're planning to go in spring and catch the cherry blossoms, the castle grounds is one of the best spots to do so. A sightseeing boat tour is also available which will give you a different perspective of the castle and its grounds. This activity is available in the morning, mid-afternoon, and late afternoon. Admission fee costs ¥1,400 (adult), ¥700 (student), and ¥350 (children).
Admission Fee: FREE except for the 'Main Keep' which costs ¥370.
Operating Hours: Main Keep (9AM – 6PM, March – November; 9AM -5PM, December – February); will refuse entrance to visitors 30 minutes before closing time. Note: Closed on December 29 to 31.
Nearest Station: Kamiyacho-nishi or Kamiyacho-higashi tram stop.
How to Get There: From JR Hiroshima Station, ride the tram (Tram 1, 2, 6) and get off at Kamiyacho-nishi/Kamiyacho-higashi stop. From there, walk for around 10 minutes going to the castle ground. Travel time is around 20 minutes (tram and walking). The cost of the tram ride is ¥180. If you're coming from the Hiroshima Peace Memorial Park or the Shukkeien, walk straight to the castle for 10-15 minutes.
---
Hiroshima Food Trip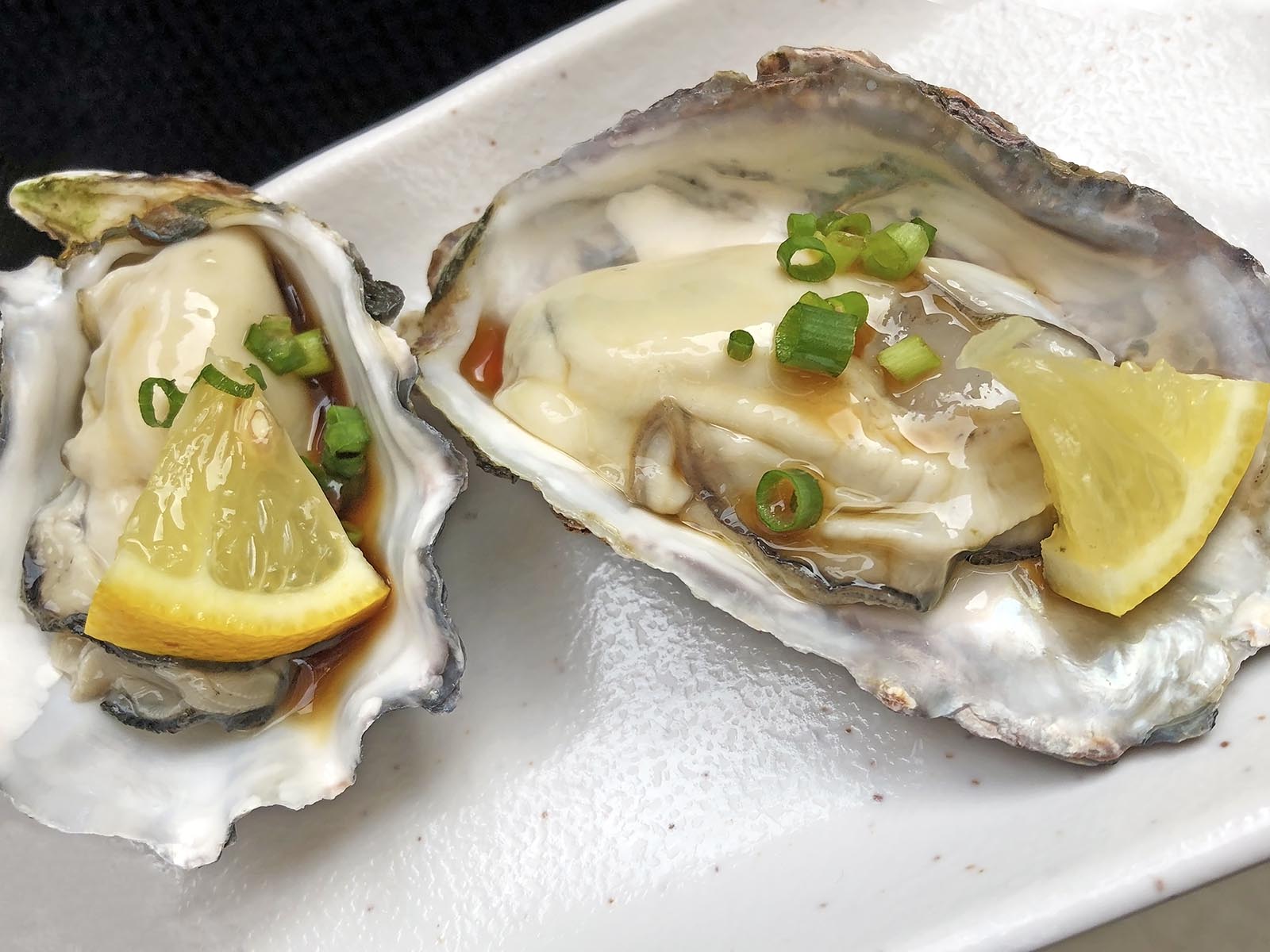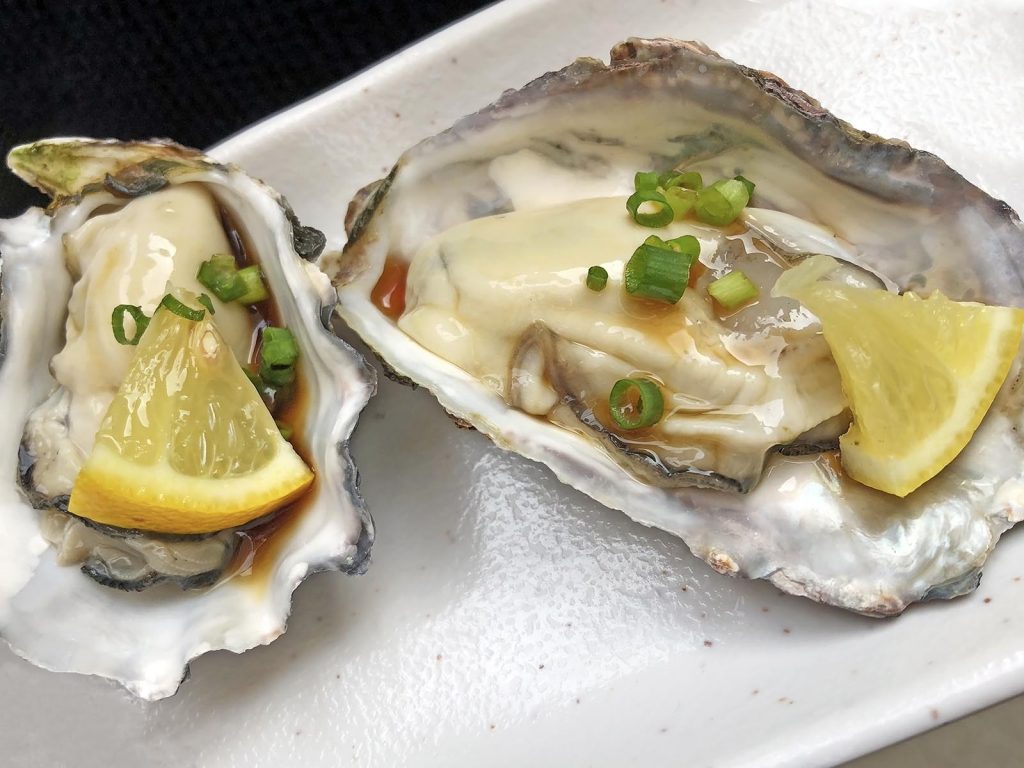 A trip to the Land of the Rising Sun is never complete without trying the gastronomic offerings. Each prefecture has its own way of preparing traditional Japanese dishes. Why not try variations of your favorite Japanese food from each prefecture you'll get to visit?
Hiroshima Okonomiyaki. A flavorful pancake cooked with egg, meat, sprouts, cabbage, and noodles. Hiroshima's okonomiyaki is different from Osaka's in a way that the ingredients are arranged in layers and are added while cooking. Another layer of egg is added after cooking, served with a thick okonomiyaki sauce.

Okonomiyaki is a favorite of both locals and tourists. The love of locals for this dish goes way back to the time when there was a food shortage after the bombing in 1945. There is even a place called Okonomi-mura or the Okonomiyaki Village where you can get your fix of this famous dish.

Hiroshima Oysters. Hiroshima is one of the biggest producers of oysters. You can find restaurants that offer oysters everywhere in the city. Because of its abundance, oysters in Hiroshima are generally cheaper compared to other parts of Japan.
Hiroshima Ramen. Ramen in Hiroshima is made with soy sauce and pork bone broth. It is a little bit spicy and its noodles are thin. They also have a soup-less ramen called "shirunashi tantanmen" which is served with chili oil, fried ground pork sauce, and pepper.
---
Miyajima Day Tour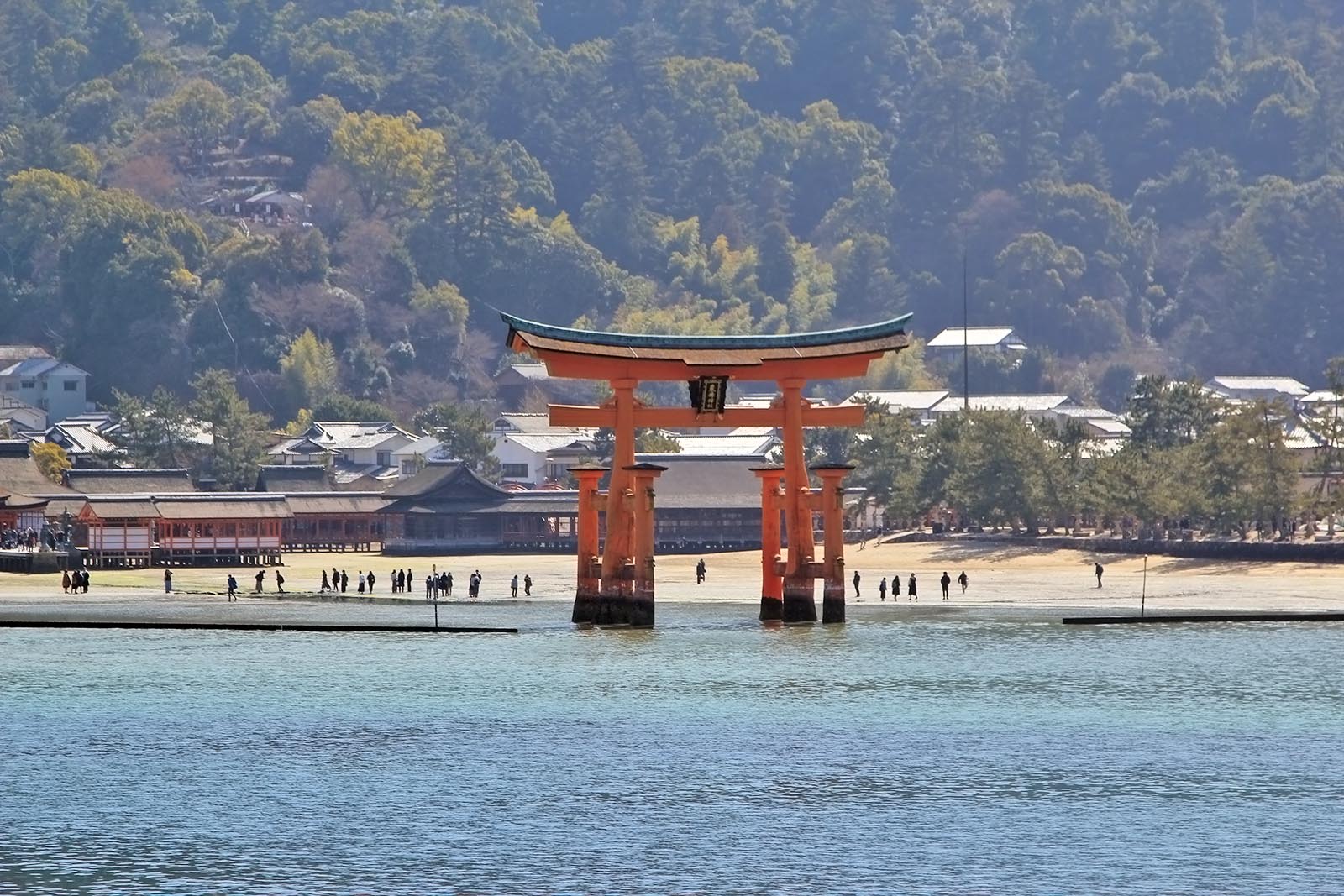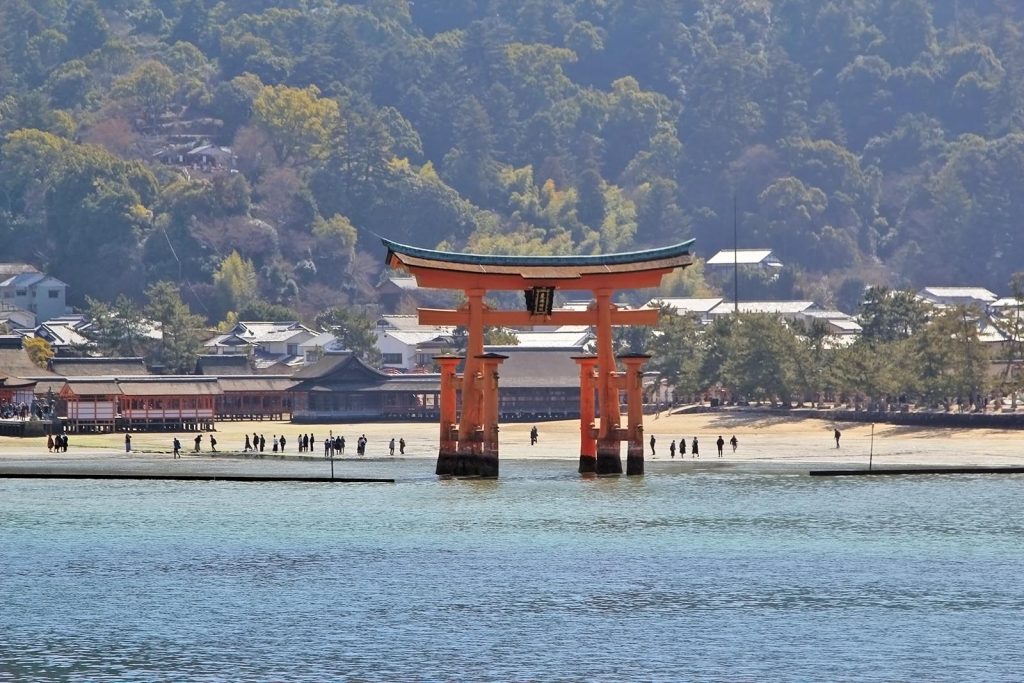 If you want to do more sight-seeing, you can visit the Itsukushima Shrine complex in Itsukushima Island also known as Miyajima ("shrine island"). You can get to Miyajima within an hour from Hiroshima's downtown area either by train or tram. It is a recognized UNESCO World Heritage Site and is known for having one of the best views in Japan.
How to Get to Miyajima
Via local train: From JR Hiroshima Station, ride a train on the JR Sanyo Line to Miyajimaguchi Station. From there, walk straight to the ferry pier (either JR ferry or Matsudai). Buy your ticket to Miyajima Island. Ride the ferry going to the island.
Fare: ¥410 (train) + ¥180 (ferry)
Travel Time: Around 35 minutes (train + ferry)
Via tram: From downtown Hiroshima, ride Tram 2 to Miyajimaguchi Station. From there, walk to the ferry pier (either JR ferry or Matsudai). Buy your ticket to Miyajima Island. Ride the ferry going to the island.
Fare: ¥260 (tram) + ¥180 (ferry)
Travel Time: 1 hour, 20 minutes (tram + ferry)
Via direct boat: From Hiroshima Peace Memorial Park or Hiroshima Port, ride a boat to Miyajima Island.
Fare: ¥2,000 (from Peace Park); ¥1,850 (from Hiroshima Port)
Travel Time: 45 minutes (from Peace Park); 30 minutes (from Hiroshima Port)
---
Saijo Sake Town Tour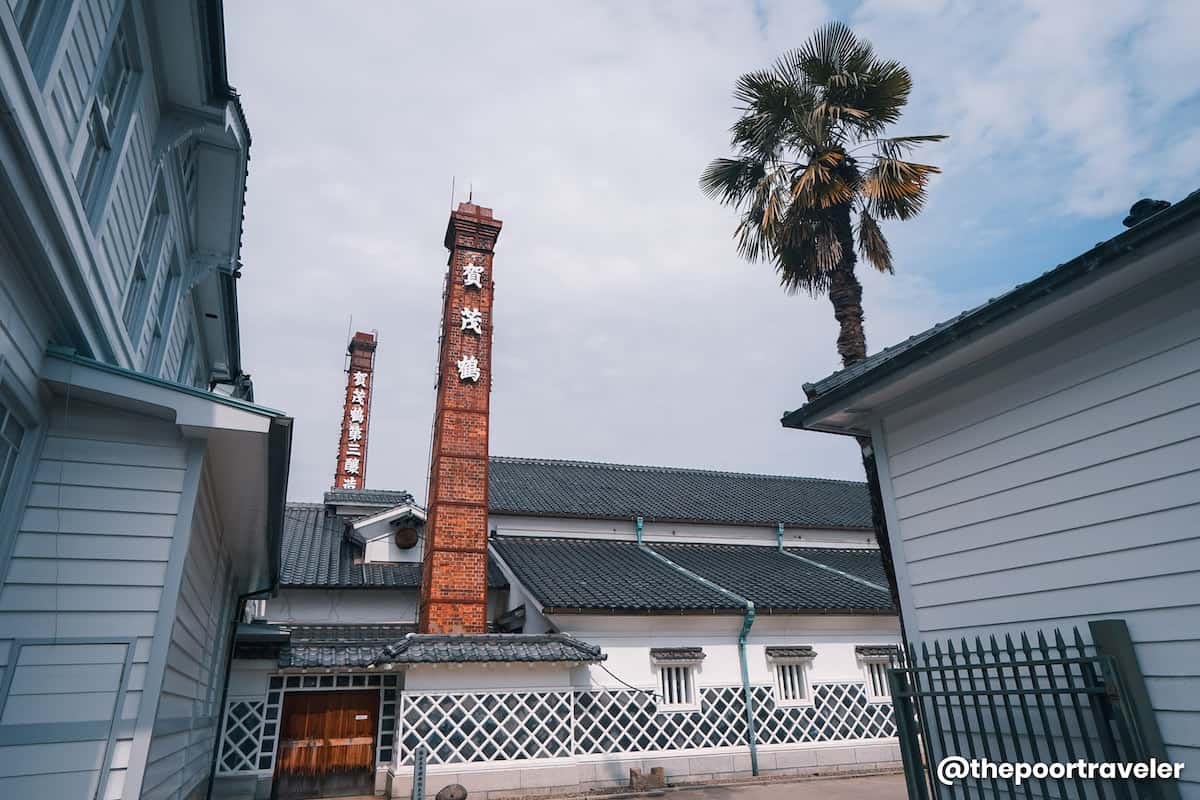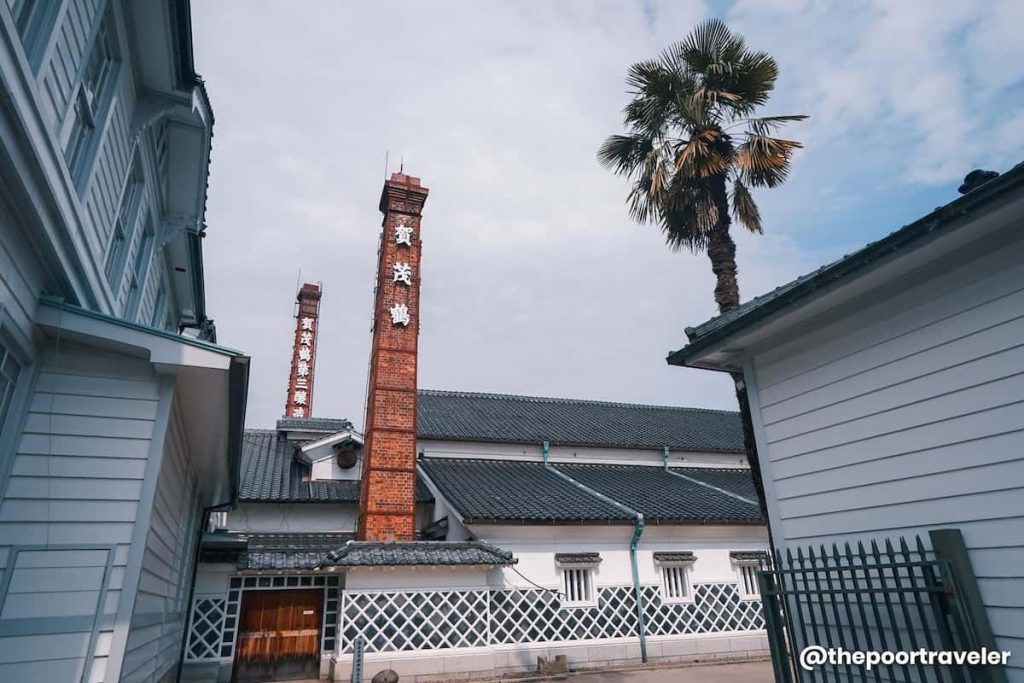 If you love sake aka Japanese rice wine, this activity is one that you shouldn't miss. About 40 minutes from Hiroshima, Saijo will give you what is arguably the best sake you'll ever taste in your life.
From JR Saijo Station, you can walk a few meters going to Sakagura or the Sake Storehouse Road. Here, you'll find 10 of the best sake breweries in Japan. These are Kamotsuru, Fukubijin, Kamoizumi, Kirei, Saijotsuru, Hakubotan, Sanyotsuru, Kamoki, Sakurafubuki, and Chiyonoharu.
You can take a tour organized by the Saijo Tourism Office. The guided sake tour is available from Tuesdays to Sunday at 10 am and gives you a better perspective on how sake is made. Just be sure not to drink too much on each stop or you might have a hard time going back to your hotel.
The Sake Festival happens around October. So if you're traveling within that month, you can check when the festival will take place to partake in the celebration and festivities.
How to Get to Saijo
From Hiroshima Station, ride the JR Sanyo Line to JR Saijō Station.
Fare: ¥580
Travel time: 35-40 minutes
---
Onomichi Day Tour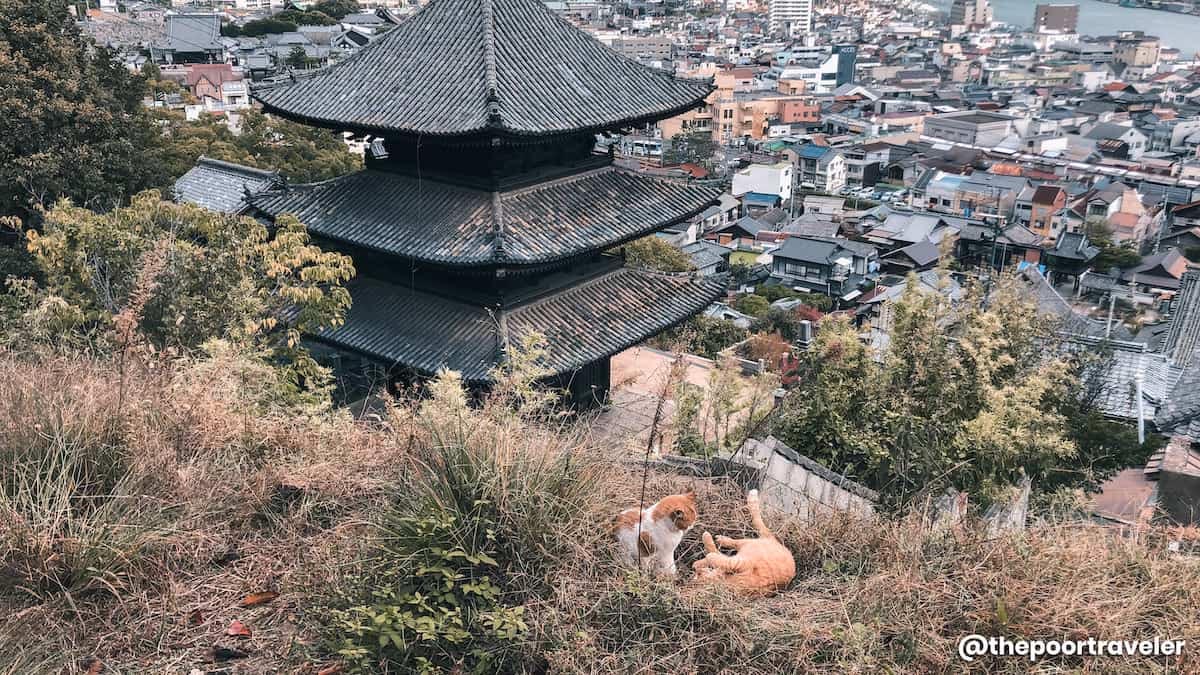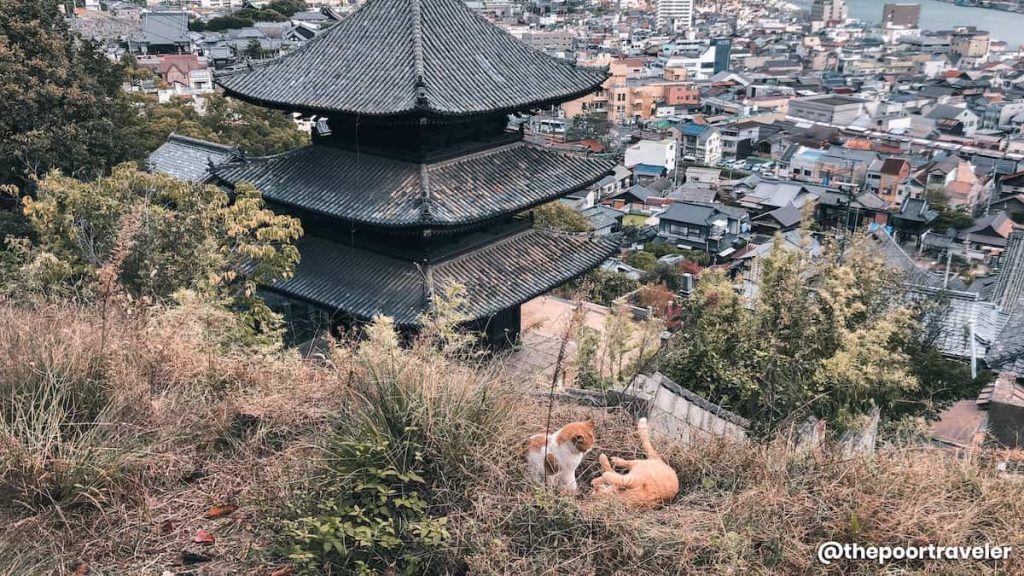 An hour away from the city center, Onomichi is a must-visit for travelers. It has a group of islands linked by the Nisheto Expressway, fondly called by the locals as the Shimanami Kaido. To explore and experience more of what ShimanamiKaido can offer, you might want to consider renting a bike or roam the area by foot. You'll find a number of scenic roads and trails that often lead up to monuments and temples.
Other attractions found in the area are the Temple Walk route, the Hirayama Museum, Onomichi City Museum of Art, and the Kosanji Temple.
How to Get to Onomichi
By train: From JR Hiroshima Station, ride the train on JR Sanyo Line to Onomichi Station. Direct trains are available, but most would require a line transfer at Itozaki or Mihara Station.

Fare: ¥1,490

Travel Time: 1 hour, 30 minutes
By highway bus: From Hiroshima Bus Center, ride a bus to Onomichi. Alight at Onomichi Station.
Fare: ¥1,750

Travel Time: 1 hour, 30 minutes
---
Okunoshima (Rabbit Island)
If you have another day to spare in Hiroshima, you can visit Okunoshima. It is an island found in the Seto Inland Sea and is part of Takehara. Okunoshima was where chemicals were made during the war. It was called "Rabbit Island" because it was home to many rabbits during that time. References also mentioned that most chemicals were tested on these animals, so after the war, the rabbits were removed from the island. You'll still get to see rabbits roaming around, but these rabbits are a different kind. They were introduced again to the island after the war and came from other places in Japan.
To learn more about the island's dark past, you can visit the Poison Gas Museum.
How to Get to Rabbit Island
From JR Hiroshima Station, ride the Kodama train on the Sanyo Shinkansen Line to Mihara Station. From Mihara Station, transfer to a train on JR Kure Line to Tadanoumi Station. From there, walk to the ferry terminal. Buy a ticket and ride the ferry to Okunoshima.
Fare: ¥1,320 + ¥970 (Kodama train + seat fee to Mihara); ¥320 (local train to Tadanoumi); ¥310 (ferry to Okunoshima)

Travel Time: 1 hour, 15 minutes
Note: Operation from Mihara to Kure was paused in July. It will restart operations in January 2019. If you're traveling within these dates (July to December 2018), you can take a bus from Mihara to Tadanoumi or the Kaguyahime Highway Bus from Hiroshima Bus Center to Tadanoumi Station.
---
Sandankyo Gorge Hike
For nature lovers, a hike to Sandankyo Gorge Hike would probably be the highlight of your trip. You'll find pools of clear fresh water and cascading waterfalls in the area. If you get hungry along the way, there is a restaurant that offers freshly caught-fish that can be grilled the way you like it.
The Sandakyo Gorge Hike is best experienced in spring and autumn; hiking is only allowed in the months of April to November.
How to Get to Sandankyo Gorge
From Hiroshima Bus Center, ride the morning bus at Platform No. 7 that travels to Sandan-kyo Bus Stop. 
Fare: ¥1,400 (one way)

Travel Time: 1 hour, 15 minutes
Note: There is only one rapid bus that travels directly to Sandan-kyo Bus Stop in the morning. It leaves at around 8AM.
---
Other Hiroshima Attractions
Hiroshima City Transportation Museum
Mazda Museum
Shukkeien
Hijiyama Park
Hiroshima City Manga Library
Hiroshima City Museum of Contemporary Art
Hiroshima Prefectural Museum of Art
Mitaki-dera
Fudoin
Food Festival (early May)
Sake Festival (early October)
Food Festival (late October)
---
Hiroshima Essentials

Pocket Wi-fi
Stay Internet-connected while in Hiroshima!
➡️ RESERVE HERE

5-Day Pass (KIX Pick Up)
Explore Kansai and Hiroshima!
➡️ RESERVE HERE

ICOCA Card
Easy access to train, subway and buses!
➡️ RESERVE HERE

JR Pass
Unlimited train rides within the JR network.
➡️ RESERVE HERE
---
Japan Hotel Discounts
---