Kyoto is a popular tourist destination; it combines old and new through its modern and ancient structures. It is home to many centuries' old temples, shrines and other places of interest. It is often on itineraries because of the many things to do and experience during a visit. Japan is an expensive country to explore; however, there are transportation and visitor passes that make the trip not just smoother, but also cheaper. Here are the passes to consider getting when exploring Kyoto.
---
Kyoto City Bus and Subway Pass
This pass provides you with unlimited use of trains and buses on the Subway Line, Kyoto and Keihan Bus, and City Bus Line, excluding certain routes. This is valid for one day or two days. The ticket expires on the day you use it and not for 24 hours. This combo ticket makes it easy for visitors to explore the attractions within Kyoto and even get special offers for stores, museums and others when you present it.
Buy this pass from the Subway Station, Commuter Pass Sales Booths, Kyoto City Bus Management Center and the Kyoto City Bus and Subway Information Center.
One-Day Pass: JPY 900 (adults); JPY 450 (kids)
Two-Day Pass: JPY 1,700 (adults); JPY 850 (kids)
---
Hankyu Tourist Pass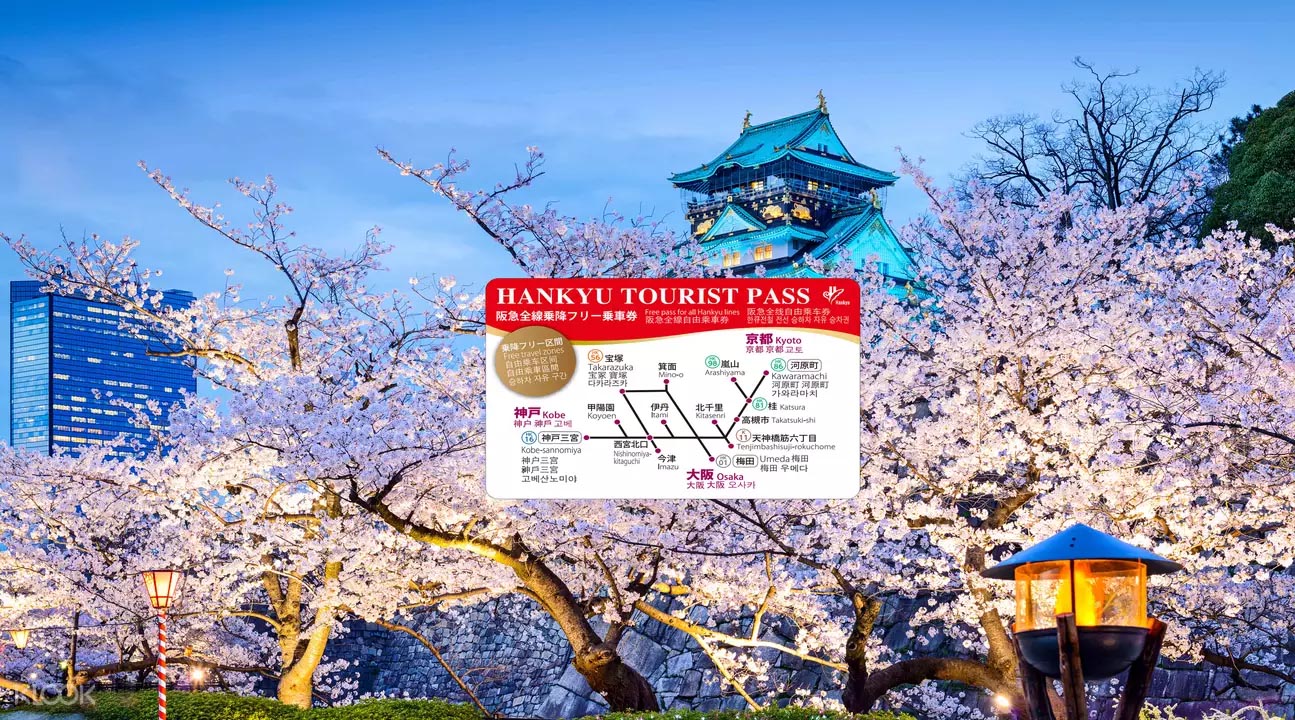 This provides you with an unlimited use of the trains on the Hankyu network that links Kobe, Kyoto, and Osaka. This is an ideal option for those who want to visit as many places as possible within a short amount of time. You can buy a one-day or two-day pass. Take note that this pass doesn't cover the Kobe Kosoku Line. You can use this pass for non-consecutive days as long as it is still valid. You can purchase this pass at the Hankyu Tourist Centers or at the airport. For convenience, you can also reserve online and get discounted rate via Klook:
➡️ RESERVE HANKYU TOURIST PASS HERE!
---
Kansai Thru Pass


This pass isn't just valid for Kyoto but pretty much the entire Kansai Region. It provides holders with unlimited use of subways and buses of most networks with the prominent exclusion of Japan Railways. This is an ideal option for those who want to explore one area. While other passes only cover transport between cities, this one includes a lot of buses and subways within a city. You can also use it on non-consecutive days throughout its validity.
So which is better? Kansai Thru Pass or JR West Kansai Pass? Depends on your itinerary. If you feel like you're taking more non-JR lines, get the Kansai Thru Pass. Most destinations in Kansai are also accessible by non-JR lines. And what makes Kansai Thru Pass more useful is that you don't need to use it on consecutive days, which removes the time pressure.
You can buy this pass at the tourist information center in Kansai Airport, Kyoto Station's bus information center, and the tourist info centers at Hankyu Umeda Station, Namba Station, and Osaka Station. You can also get it online via Klook:
➡️ RESERVE KANSAI THRU PASS HERE!
---
JR West Kansai Rail Pass


This offers unlimited access to rail and bus rides, not just in Kyoto, but in other parts of the Kansai region, including Osaka, Kobe, and Nara. You can also use this to get from Osaka to Kansai Airport and vice versa.
You can choose from a single day pass up to four days. However, take note that this pass is only available within the JR system of trains and buses. Unfortunately, you won't be able to use in subways and Nankai-affiliated trains.
Is this pass for you? If you're only planning to tour Kyoto and not the other cities, then this may not be for you. You're not maximizing its value. You can choose instead to avail the Kyoto City Bus and Subway Pass.
If you're planning to travel to Osaka, Kobe, Nara, and other Kansai cities, then the Kansai Rail Pass could be perfect for your needs.
Do note that this pass is only available for online purchase. You can't buy this anywhere in Japan. This pass is intended for foreign tourists who will stay in Japan for a limited time. You can book this pass via Klook:
➡️ 1-Day Pass. RESERVE HERE!
➡️ 2-Day Pass. RESERVE HERE!
➡️ 3-Day Pass. RESERVE HERE!
➡️ 4-Day Pass. RESERVE HERE!
---
ICOCA Card


To be clear, the Icoca card is not a pass, but rather a prepaid card. It is a card used primarily for transportation in western Japan, akin to the SUICA and PASMO Card used in Tokyo and other eastern cities.
Since it's a prepaid card, you're still paying for each trip. Once in a while, you also get to enjoy discounted rates when you use this card. But the main convenience of having an Icoca card is you don't need to get into a queue every time you're buying a ticket. Just place the card on over the magnetic reader, and you'll get through the platform without hassle.
Aside from train rides, you can also use the Icoca Card on vending machines, convenience stores, buses, and even the lockers found in train stations.
You can get an Icoca card through Icoca machines found in any train station. Simply choose "English" on the welcome screen and follow the instructions. The instructions will very easy to follow.
You can also get an ICOCA card via Klook. One advantage of getting your card via Klook is that the card already comes pre-loaded with JPY 1500, plus your deposit of JPY 500. Once you return the card, you get your deposit back.
➡️ RESERVE ICOCA CARD HERE
---
JR Pass

The JR Pass will allow you to take unlimited rides within the JR network. It is best for long-distance train travel. If you are only visiting one city in Japan, purchasing one will only cost you precious money.
When is JR Pass worth it? If you are visiting multiple cities in Japan for a period of 7 days or longer. JR Pass covers Shinkansen (high-speed bullet trains), which are very expensive. The JR Pass will allow you to take these speedy trains without worrying about the cost. It's a great buy if you have a busy itinerary spanning multiple cities.
➡️ RESERVE A JR PASS HERE
---