Japan's big cities are shopping havens; you'll find all sorts of items sold in them whether you're on a budget or willing to splurge. Osaka is like any other big city in the country. Its claim to fame is that it is Japan's kitchen. However, foodies aren't the only ones who will enjoy their trip to this bustling metropolis.
Osaka is home to many establishments and shops that cater to various hopping needs such as apparel, gadgets, and whatever you may want to take home after your trip. These are some of the places to go shopping in Osaka. The city is a great place to eat and shop because of the many options available to you.
---
Osaka Essentials

Osaka Pocket Wi-fi
Stay Internet-connected while in Osaka!
➡️ RESERVE HERE

Japan Local SIM
Local SIM Card with data plan!
➡️ RESERVE HERE

ICOCA Card
Easy access to train, subway and buses!
➡️ RESERVE HERE

Osaka Amazing Pass
Unlimited subway rides and free entry to attractions.
➡️ RESERVE HERE!
---
Hankyu Department Store Umeda Main Store
This department store has a bit of history because it dates back to 1929. It has seen the changes the city had experienced over the decades. It has high-end goods for shoppers who want to splurge on various items. The department store is home to the largest cosmetics section in this part of the country. Other products are available such as staple household items, famous brands, Japanese sweets, and Japanese handicrafts.
Nearest Station: JR Umeda Station (directly connected)
---
Tenjinbashisuji Shotengai
The name of this destination may be a mouthful, but it is one of the popular places to shop till you drop. It is also one of the longest outdoor shopping arcades in the country. The district is near Temma Station; its street is approximately two kilometers long and is home to around 600 shops. It is a place where you'll find a variety of items from the super cheap to the pricey. There are 100-yen shops lining it for visitors looking to score affordable souvenirs. You can find distinct items you can only find in Japan such as yukata which is a cotton garment used during the hot and humid summer months. Before moving on, make sure to try takoyaki which is a specialty in Osaka.
Nearest Station: JR Temma Station
---
HEP FIVE
Located in Umeda, the complex immediately grabs your attention because of the huge Ferris wheel. HEP FIVE has more than a hundred shops that sell various products from household items to trendy clothes. You can also ride the Ferris wheel after shopping to get overlooking views of the area. This destination is a city landmark.
Nearest Station: Osaka Umeda Station (Hankyu Railway) and JR Osaka Station
---
Grand Front Osaka
Osaka Station is one of the main stops in the city. Near it is the Grand Front Osaka, a shopping complex that is home to more than 200 shops. You can easily find the things you want to buy here, whether it's the latest fashion or mundane, everyday items. After shopping, you can hang out at the rooftop garden to get overlooking views of the bustling city and just relax before moving on.
Nearest Station: JR Osaka Station
---
Yodobashi-Umeda
This complex caters to electronics junkies looking for cameras, computers, equipment, gaming consoles, watches, and anything electronic. You can find a variety of Japanese brands here at a good price. You can get the latest camera or computer you may need for your hobby or profession. Save money by going to the tax refund counter after buying. Other than gadgets, you can also find fashion items and a 100-yen shop.
Nearest Station: JR Osaka Station
---
Namba Marui
This complex near Namba Station has a variety of items for men and women looking for the latest trends in fashion. The shops here cater to fashion-forward shoppers. There are also some theaters here if you want to watch the latest flicks.
Nearest Station: JR Namba Station
---
Shinsaibashi-suji Shopping Street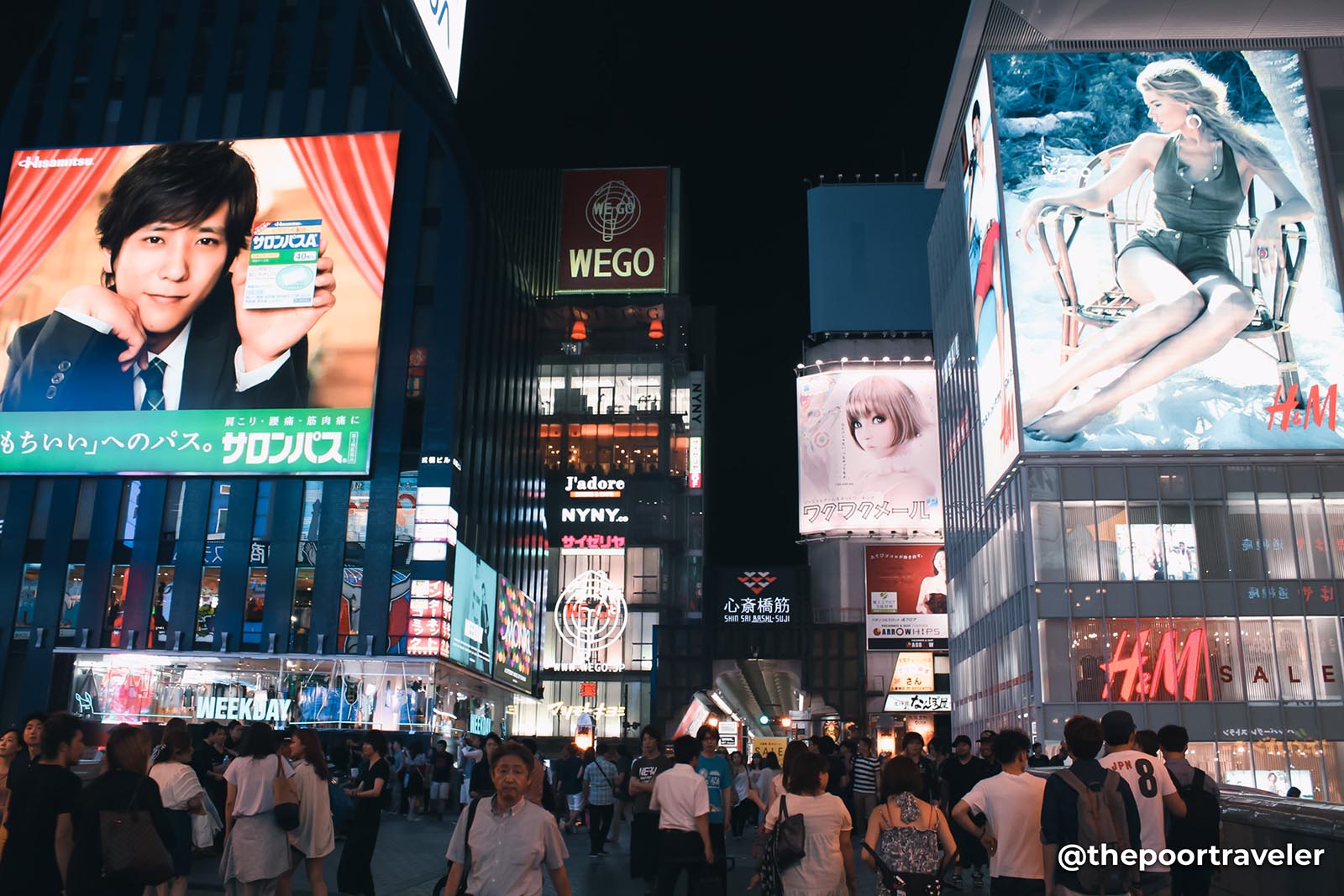 This popular district is the place to be to go shopping whether you are a tourist or a local looking for affordable apparel, souvenirs, and other items you might want to take home. The arcade is home to more than a hundred shops where you can find popular brands, independent boutiques, cafes, department stores, and even teashops. The roof over the area makes it a viable shopping destination regardless of the weather. It can get quite crowded because of the many things you can buy here.
Nearest Station: Shinsaibashi Station (Midosuji Metro Line)
---
Namba Walk
Japan has a number of underground shopping malls one of them is Namba Walk in Osaka. This passage has more than 200 stores that offer fashion goods and food. You can find familiar and popular shops such as MUJI and Uniqlo. It also provides you with easy connections to public transportation.
Nearest Station: Namba Station (Midosuji Subway Line, Yotsubashi Subway Line, Sennichimae Subway Line), Nippombashi Station (Sennichimae Subway Line, Sakaisuji Subway Line, Kintetsu Railway), and JR Namba Station
---
Americamura
This area is popular with young people regardless of the time of day. There are many shops that sell vintage products for those who want to relive a different epoch. The old-school clothes and the record shops create a youthful yet nostalgic ambiance. The murals and the design of the buildings also give it a creative vibe.
Nearest Station: Shinsaibashi Station (Midosuji Subway Line), Yotsubashi Station (Yotsubashi Subway Line), and JR Namba Station.
---
Namba Parks
This shopping complex near Nankai's Namba Station has over 200 stores that offer cosmetics, baby things, trendy clothes, household items, and others. Mix and match the items you bought to create your own style. Foreigners can purchase duty-free items to save more money.
Nearest Station: Namba Station (Nankai Railway & Midosuji Subway)
---
Tennoji Mio
This shopping complex is above Tennoji Station and has around 250 shops. The fashion goods you'll find here vary by budget and by sense of style. You can buy the latest apparel here and look your best whenever you go out.
Nearest Station: JR Tennoji Station
---
Abeno Harukas
This building towers over the city. It has an observatory for those who want terrific bird's eye views of Osaka. It is also home to a Kintetsu Department Store. You can shop for clothes, makeup, household items, and others during your stay.
Nearest Station: JR Tennoji Station
---
Reminders

Know the guidelines on how you can get tax-free shopping experience. For instance, the products purchased exceeding ¥5000 should be either all consumable OR non-consumable, not a combination of both.
If you are a foreign visitor, always bring your passport with you. You may need to present them to avail discounts and promos exclusive only to foreigners, like the tax-free shopping experience.
During sale season, most of the items sold cannot be returned or exchanged, so examine the products before paying for them. For regular seasons, it's best to know the return and exchange policies of the shops.
Some shops don't allow fitting of clothes on sale. Make sure you know the equivalent of your size to that of the Japanese standard of measurement for apparel.
When trying on shoes, it is rude to do it barefoot. Wear socks or ask the staff regarding this.
Do not be shy to ask the staff for assistance. They are attentive to the customers' needs.
When shopping for electronics and appliances, make sure that it is compatible with the electrical outlet back home. Some products are only compatible with Japan's electrical outlets. Check also the warranty coverage.
During winter, particularly December and January, some stores have shorter operation hours than usual.