Tokyo is a highly urbanized metropolis. The fast-paced lifestyle could leave first-timers petrified, like a lost kid amid the throngs of commuters and directional signs. Although efficient and systematic, the transit system in Tokyo, especially the railways, is so extensive that even locals and long-time residents get confused and lost. So if you are a tourist, don't worry. You are not alone. Navigating around Tokyo can be a bit intimidating.
<!-googlead2-!>
Trains, subways, buses, taxis, and cars are the different modes of transportation when going around the city. Taxis will burn your pockets. Renting a car will require you to be acquainted with Japanese traffic rules and signs. Buses can be the cheaper option but it can be confusing for first-timers. The trains and subways are the most convenient modes of transportation in Tokyo, although it can be overwhelming at first.
For a hassle-free train transit and navigation, it is recommended to use Hyperdia, a web-based search application for Japan trains. You just need to indicate your destination and it will give you several route options. It will also show you the travel duration, the total fare and the breakdown, the platform number of your train, and the number of transfers if there's any. You just need to have a good internet access.
Where to get pocket Wi-Fi? Renting 4G Pocket Wi-Fi is the best and cheapest way to connect to the internet; you can even share it with your friends or family members! Note that the supply can run out quickly, so you need to reserve in advance. You can get the device at the airport. Make sure you choose the right airport for the pick up when you do your reservation.
➡️ RESERVE A POCKET WIFI HERE
---
Tokyo By Train and Subway
Several railway systems operate within Tokyo area, including private railway companies covering the outlying wards and the suburbs. Let's focus on Central Tokyo since most of the major lines operating within and outside Tokyo pass through this course.
Three railway companies serving Central Tokyo:
JR East
Toei Subway
Tokyo Metro Subway
JR East Major Lines
Yamanote Line – the most integral line running in a loop around Central Tokyo, connecting all major city centers
Keihin-Tohoku Line – running parallel to the eastern part of Yamanote Line
Saikyo Line – running parallel to the western part of Yamanote Line
Chuo/Sobu Line – this is a local service, meaning trains are slower compared to others and a longer travel time
Chuo Line – the rapid service line, connecting Tokyo Station (east of Yamanote Line) and Shinjuku Station (west of Yamanote Line)
Shinkansen Line – The north-route bullet trains stop at Tokyo and Ueno Stations, while west-route bullet trains (Tokaido Shinkansen) stop at Tokyo and Shinagawa Stations.
Toei Subway Lines
Toei Subway operates four color-coded lines: Asakusa, Mita, Shinjuku, and Oedo Lines.

Tokyo Metro Subway Line
Tokyo Metro Subway operates nine color-coded lines: Ginza, Marunouchi, Hibiya, Tozai, Chiyoda, Yurakucho, Hanzomon, Namboku, and Fukutoshin Lines.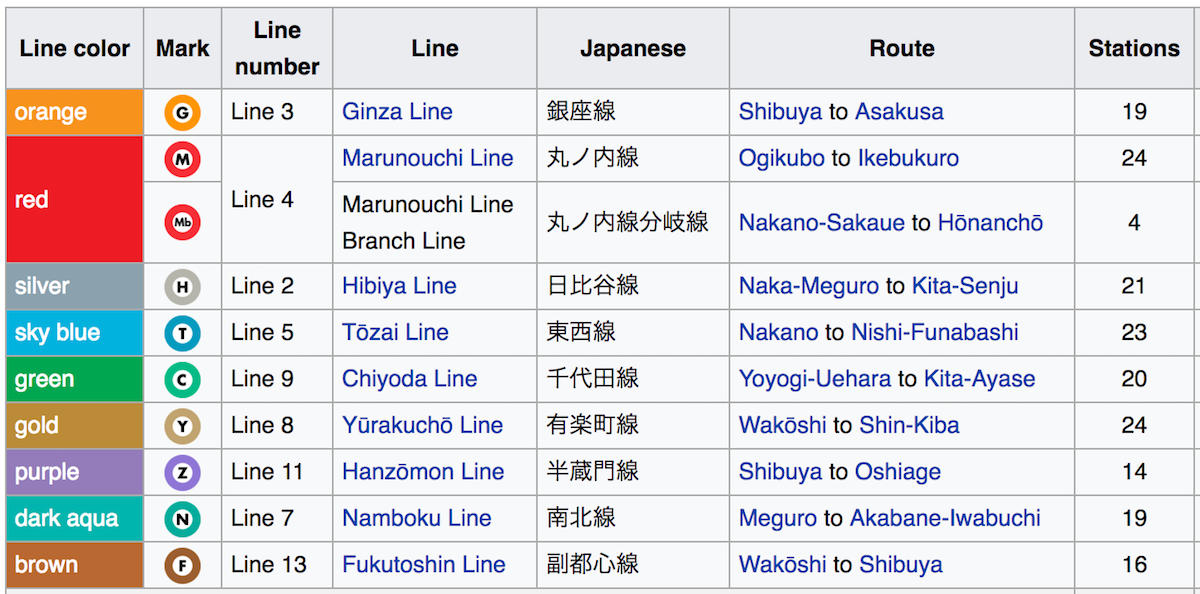 ---
Types of Trains
Japan has different types of trains, aside from Shinkansen. They are:
Local: Trains stops at every single station. Journey time is longer.
Rapid: Trains that skip some stations, but the fare is the same as that of the local trains. Rapid trains share the same platforms with local trains.
Express: Trains skip several stations, even more than the rapid trains. Journey time is shorter than local trains.
Limited Express: Trains stop only at major stations. The fare is usually higher than the other train types. It may incur an additional fee.
Related Article: For more details on how to use the train in Japan, read it here.
---
Tokyo By Bus
Buses covering the 23 wards of Tokyo have a fixed rate no matter how far or near the destination is.
Toei Transport Bus: ¥210 (adult); ¥110 (children)
Other private bus companies: Approximately ¥220
Notes:

Using prepaid fare cards is the most convenient way of paying for the fare. If your itinerary requires you a lot of bus-riding, you can also purchase the one-day bus pass.
Board the bus at the front door near the driver. Alight using the middle door.
If you want to get off, you just have to push the button on the side (usually near the windows) or the ceiling.
Follow bus rules and etiquette. No eating, drinking, or talking on the phone.
---
Prepaid Cards and Travel Passes
Prepaid fare cards are useful and convenient especially for tourists, while day passes or special tickets might and might not be practical as some might not work for other train and subway lines. Here's a more detailed post for prepaid fare cards and day passes: TOKYO CARDS AND PASSES
---
Tokyo Essentials

Tokyo Pocket Wi-fi
Stay Internet-connected while in Tokyo!
➡️ RESERVE HERE

Japan Local SIM
Local SIM Card with data plan!
➡️ RESERVE HERE

Tokyo Subway Ticket
Unlimited rides to all subway lines in Tokyo!
➡️ RESERVE HERE

JR Pass
Unlimited train rides within the JR network.
➡️ RESERVE HERE
---
Top Tokyo Attractions
---
Japan Hotel Discounts
---