What's good about Fukuoka is that the city is very easy to explore. Most of the attractions are accessible through the subway system and the highest concentration of tourist attractions in Fukuoka is in Hakata. DIY tours are possible but it would be better if you join guided tours to fully understand and appreciate each destination you choose rather than just aimlessly walking around and finding your way on your own.
Joining a tour or hiring a guide will definitely make you discover more of the place and its history as well as its culture and its people. Moreover, you can also explore other nearby towns and cities conveniently.
---
Fukuoka Pocket Wifi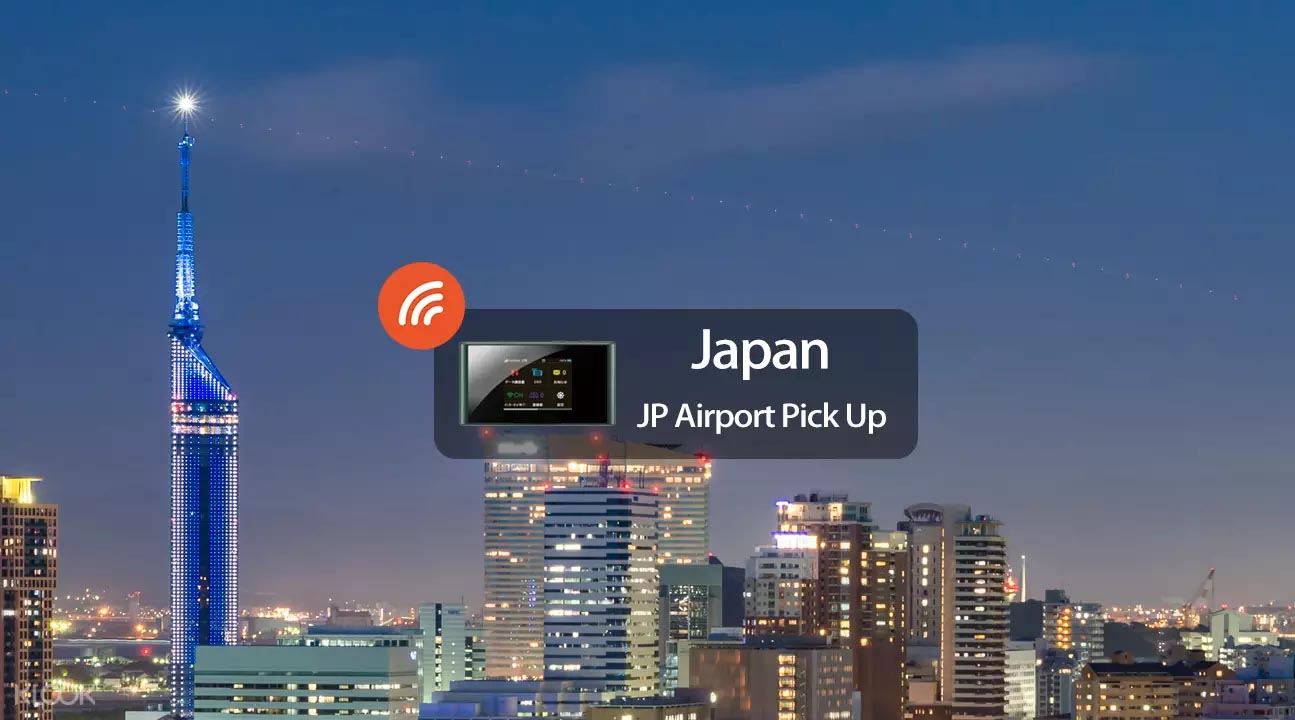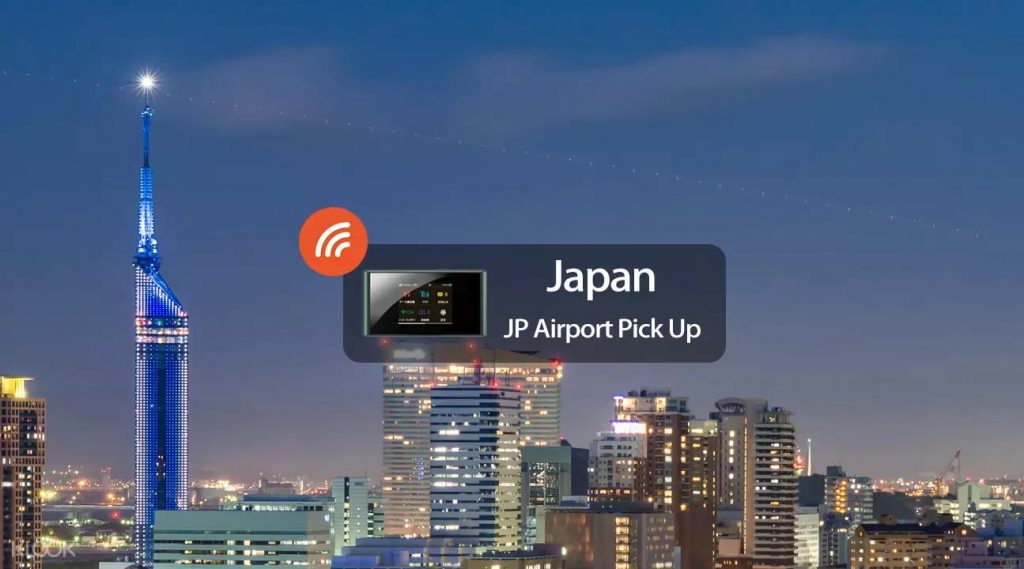 It is a prerequisite for anyone traveling abroad to have internet on the go. Especially in Japan where there is a language barrier, having a reliable internet connection can help you save time and money. You'll need this to access Hyperdia or Google Maps as you explore the city, converting yen to your currency and translating signs.
Klooks offers an unlimited 4G LTE pocket wifi service that you can pick up at Fukuoka Airport and return it to any major airport in Japan. It can also connect up to 14 devices which everyone in your family or group can use. You need to reserve before your trip because they run out quickly.
➡️ RESERVE HERE
---
Fukuoka Food Trip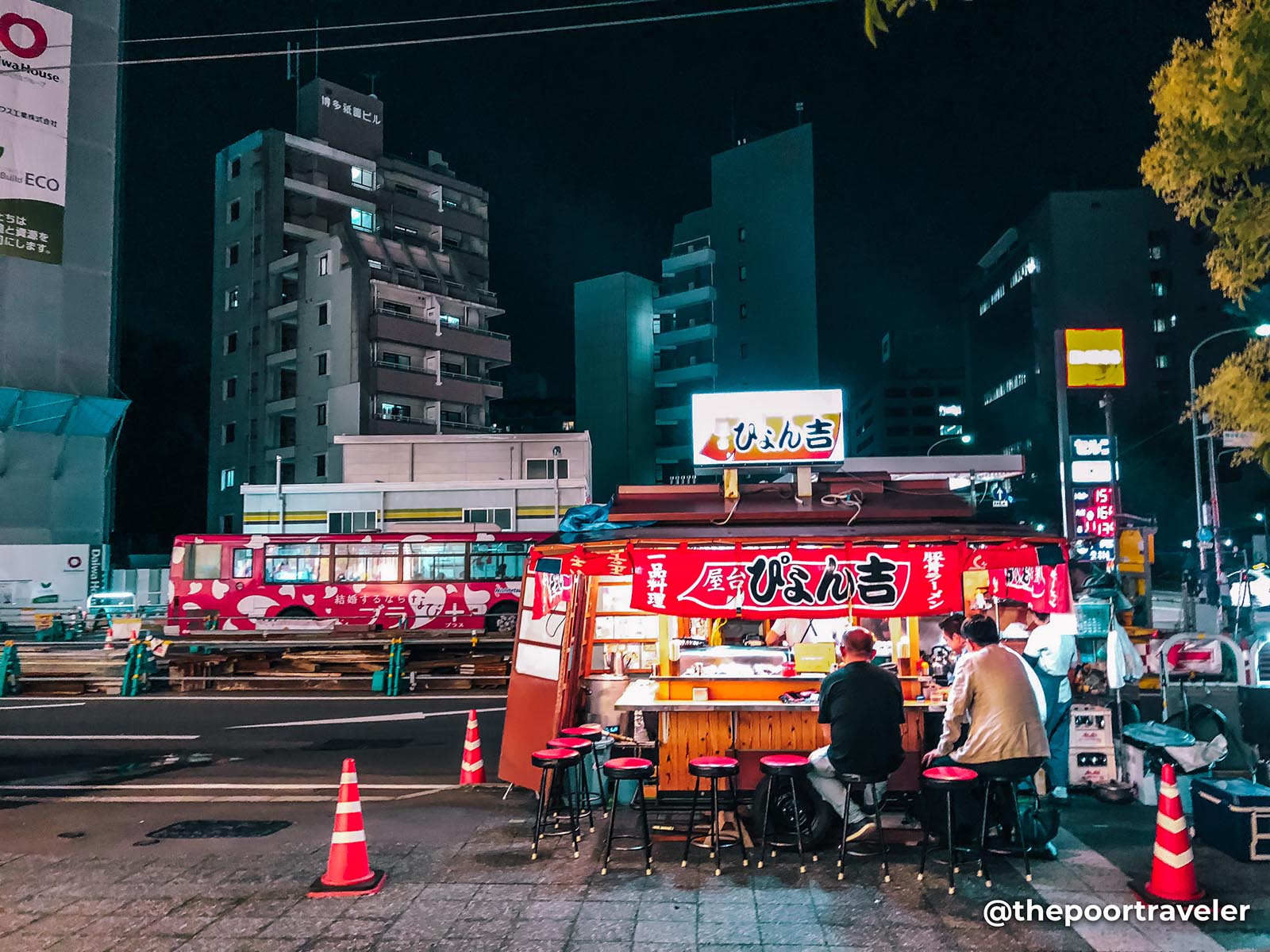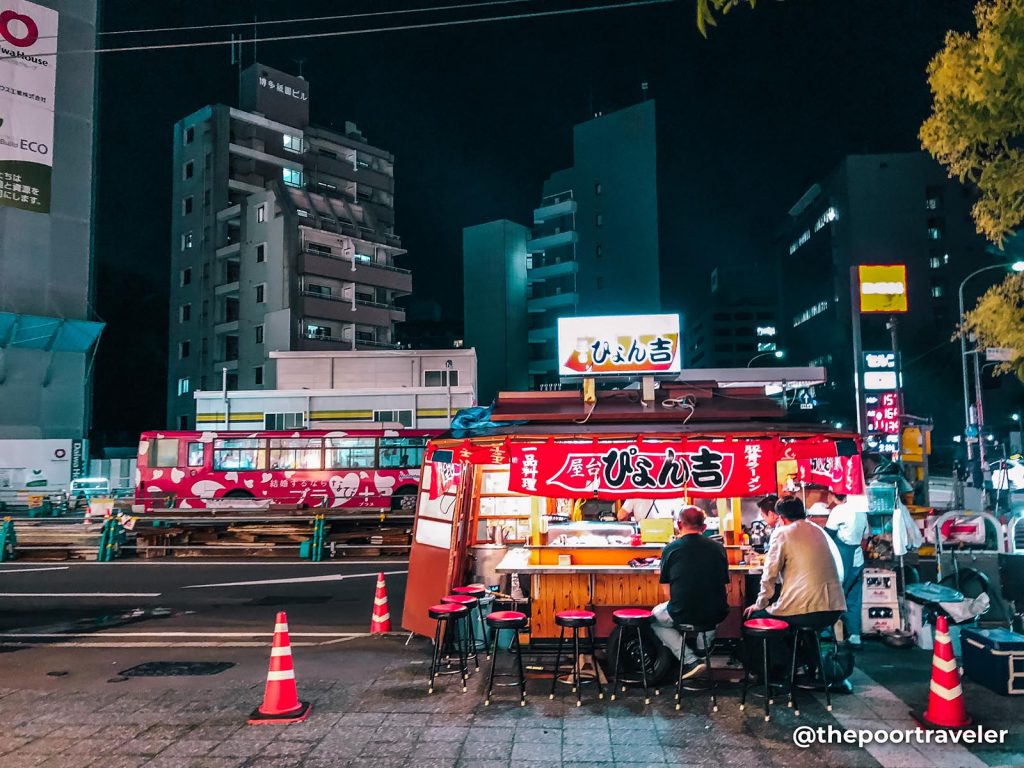 You can't stay in Fukuoka and not taste their signature Tonkotsu Ramen! Fukuoka wouldn't be named as the ramen capital of the world if it doesn't house the yummiest ramen in all of Japan.
If you've been to other parts of Japan like Tokyo and Osaka, the common street food you'll see are takoyaki and yakisoba. But in Fukuoka, the street food game is strong; hence, you'll see more varieties of street food in yatais.
A yatai is a mobile food cart you'll find on the sidewalks. It usually opens early in the evening and closes around early morning. Most of them sell ramen, but other stalls offer hotpot, seafood, and yakitori. You can even find a yatai that sells French delicacies like escargot and wine.
---
Traditional Japanese Shopping Tour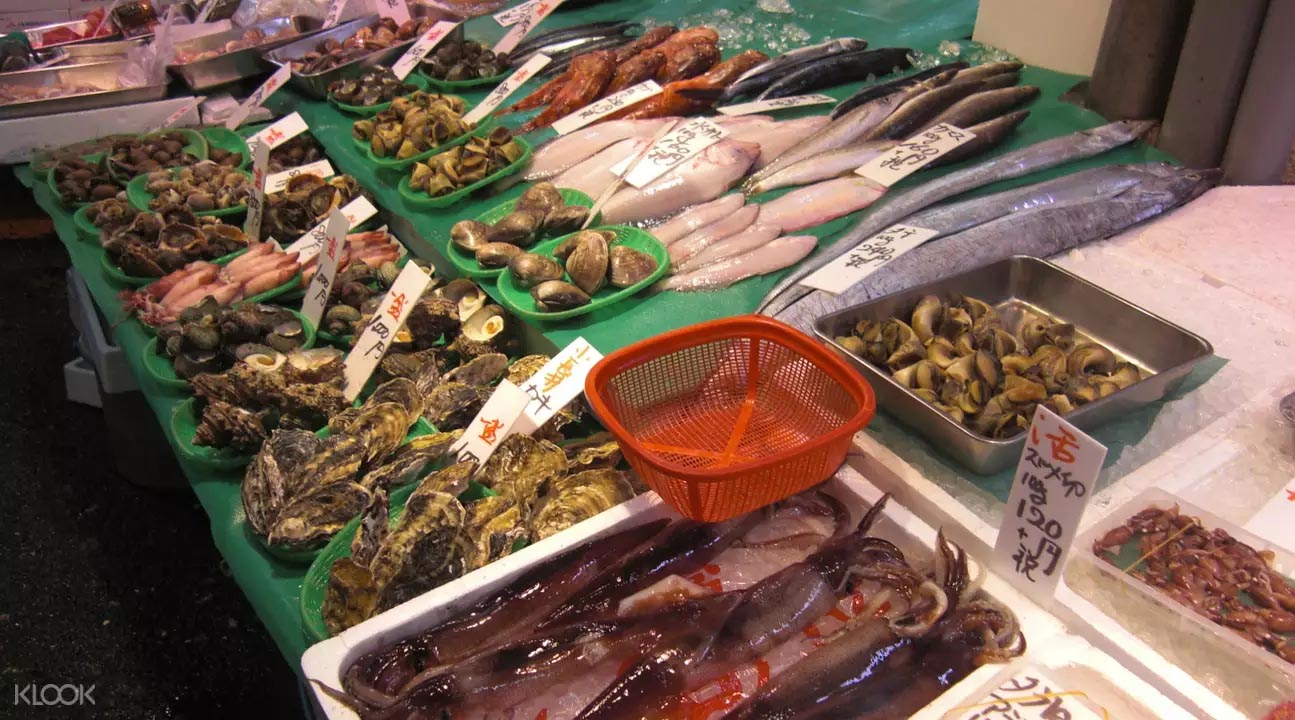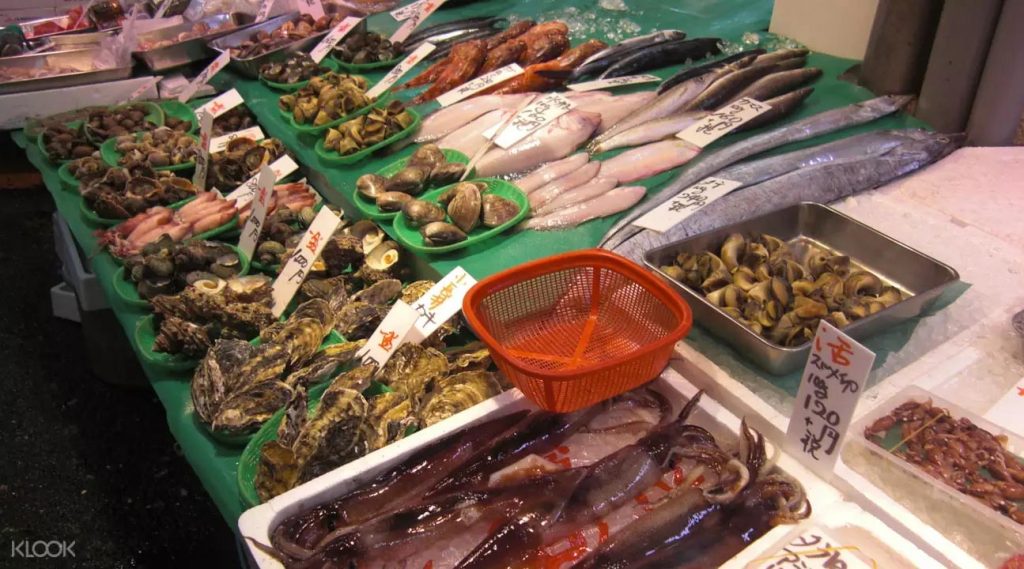 Hakata was and is still currently known as a trading city with diverse products on sale. Most of the businesses here are run by merchant families who have been in the city for generations. In this tour, you'll get to have a cup of tea, sample traditional snacks and see local produce!
Here are the stops:
Rakusui Garden, a Meiji-era pond garden
Minoshima Shopping Street, which is bursting with Showa-period shops
Yanagibashi Market, aka Hakata's Kitchen because it's the city's main market for over 100 years
➡️ RESERVE A SLOT HERE
---
Street Shopping Tour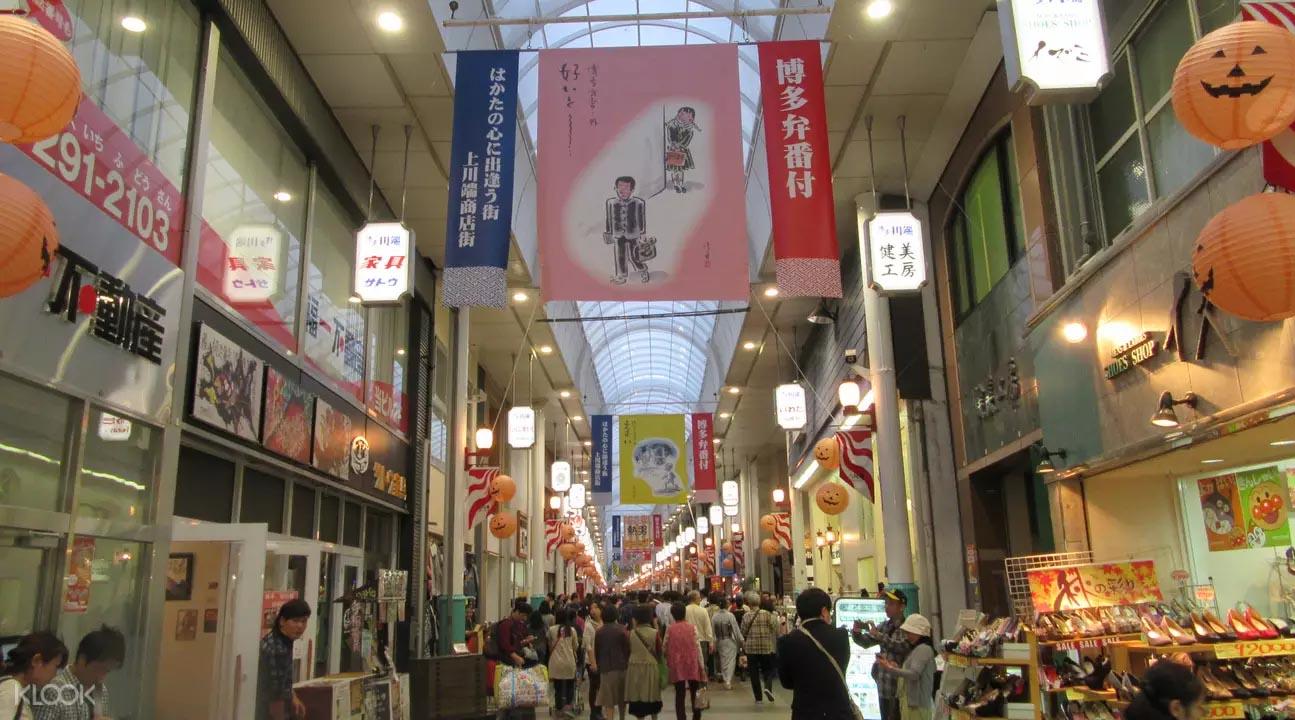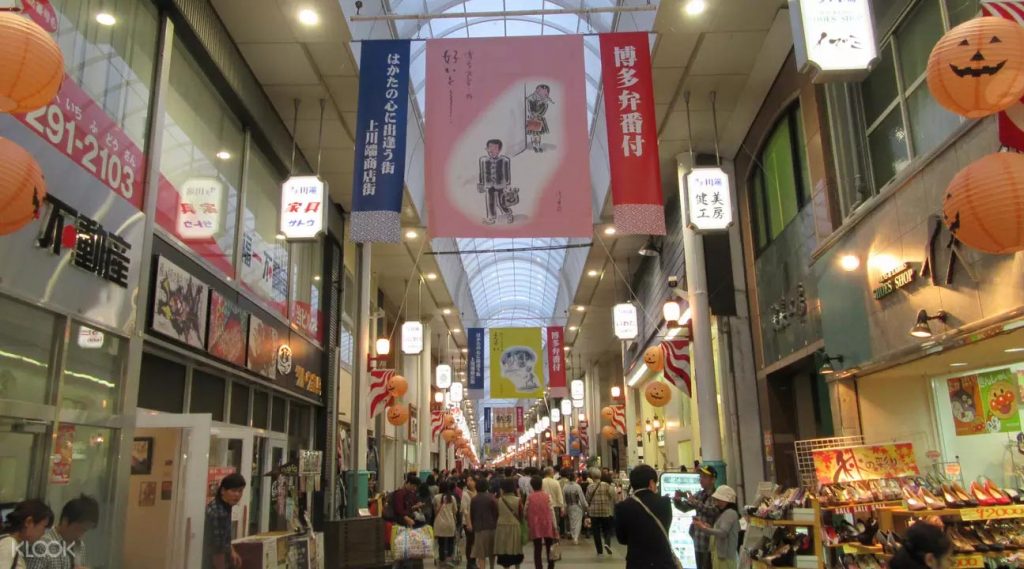 This walking tour features why Hakata has been a major trading hub for years. Even after over a century, the city's shopping and trading culture is still booming. Here are the stops included in the tour:
Kushida Shrine, known for the annual Hakata Gion Yamakasa Festival, which showcases a time trial race of grandly decorated floats around the city. You'll also find the biggest Otafuku mask in Japan at this shrine and pray for eternal youth.
Hakata townhouse museum
Traditional handicraft exhibition
Hakata Kawabata Shopping Street
Hakata Riverain Shopping Mall
➡️ RESERVE A SLOT HERE
---
Historical Hakata Tour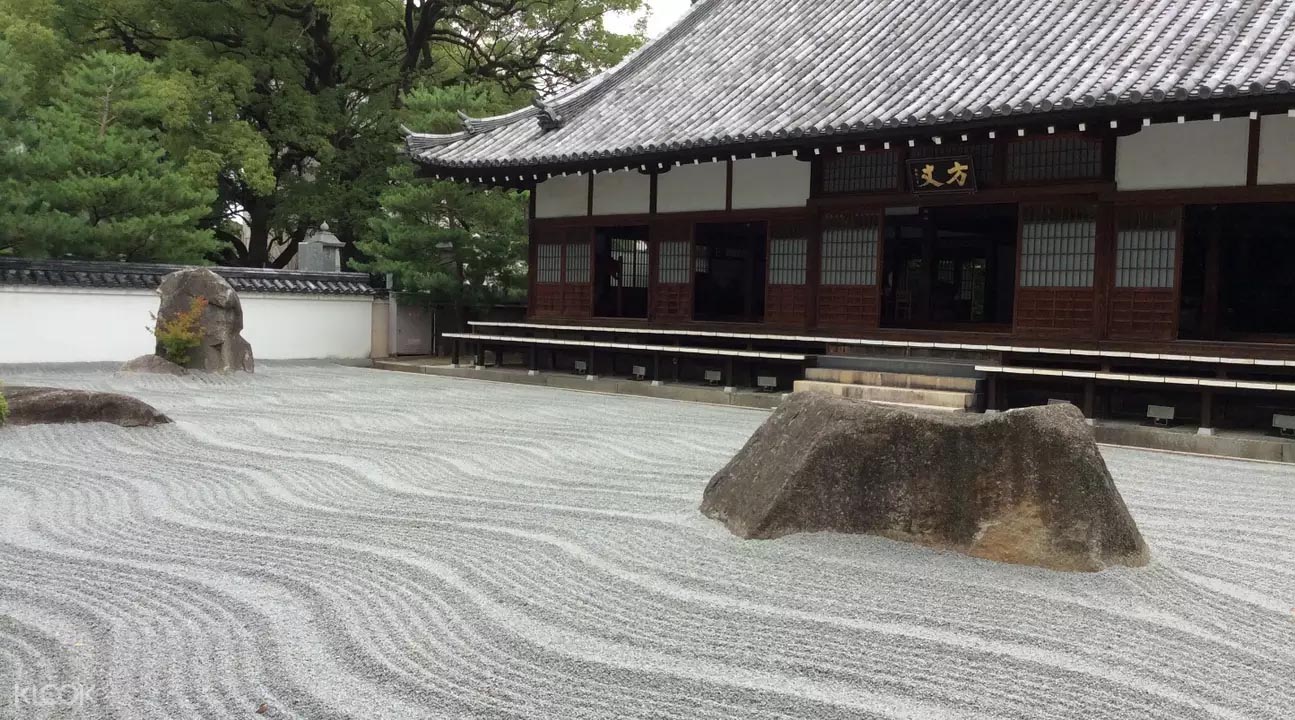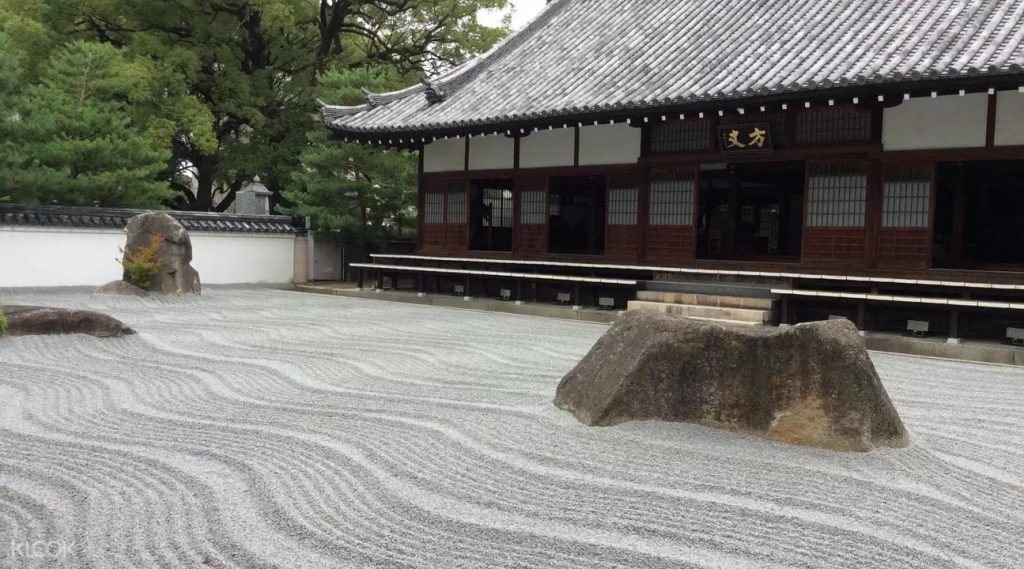 Hakata was a separate city from Fukuoka in the early 1800s, but the two cities were merged into one in 1889. It was one of the oldest cities in Japan. This tour will bring you to some of the historic sites that showcase a flashback into the city's wonderful history. Here are some of the stops included in the tour:
Sakura tea store, to see and learn more about Yame and Japanese tea wares
Ancient tomb of Xie Guoming, a Chinese merchant in the Song dynasty who played a big role in the rise of Hakata
Jotenji temple, a Rinzai temple built founded in 1242 and its peaceful garden
Tochoji temple, a Buddhist temple with a towering five-story pagoda
➡️ BOOK A SLOT HERE
---
Yanagawa River Cruise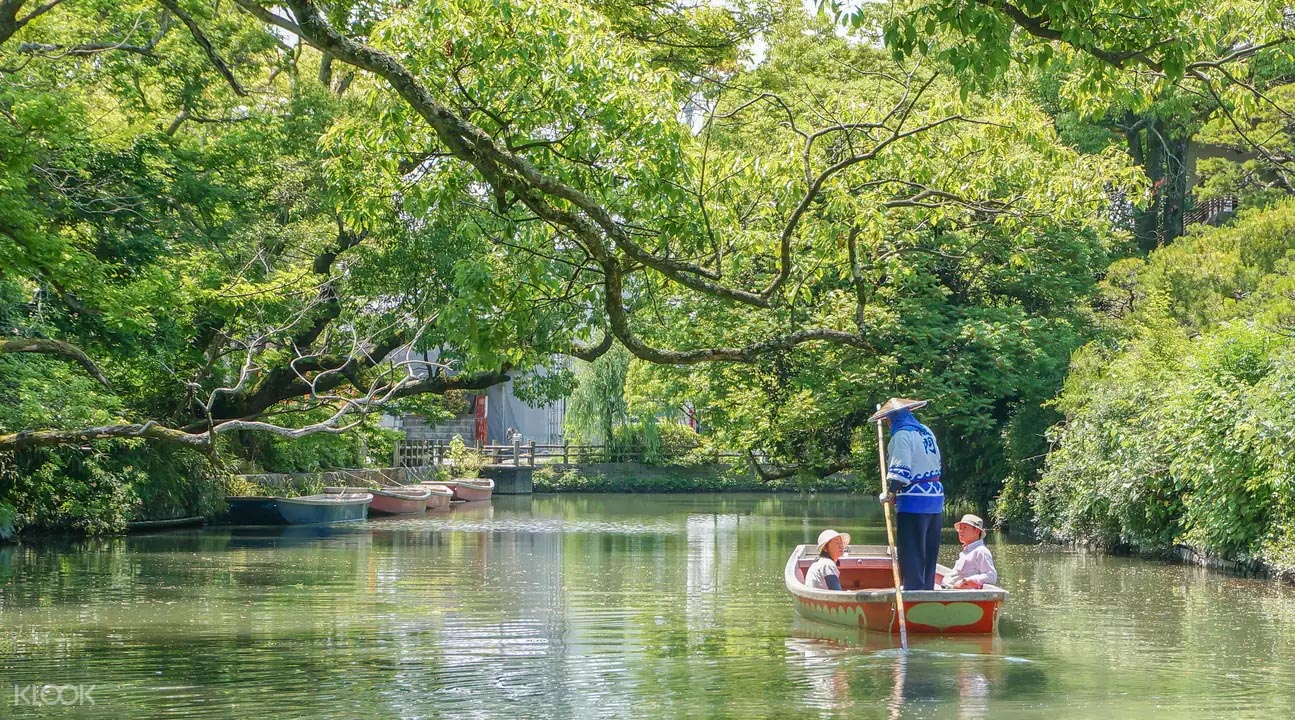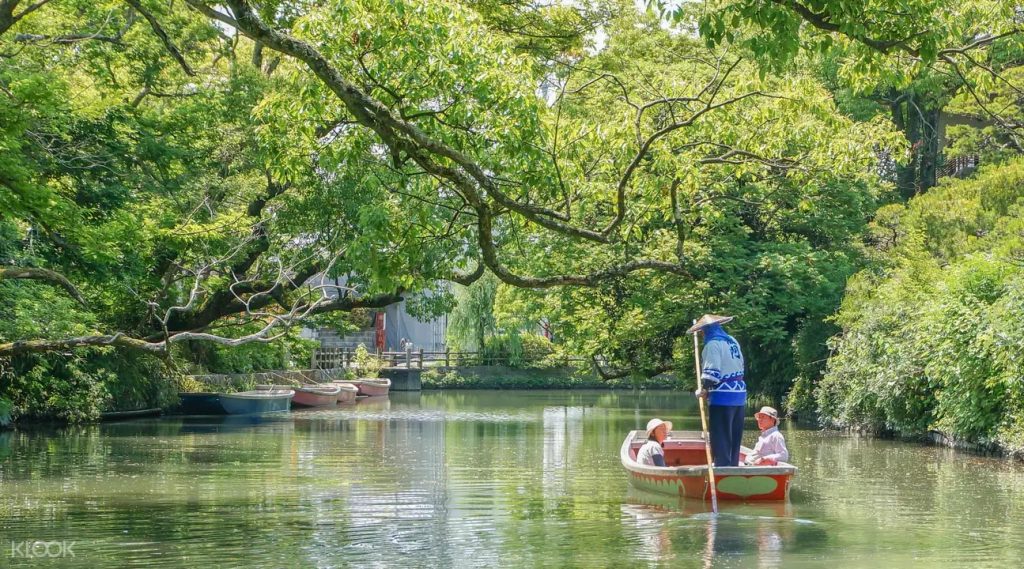 Yanagawa is located 50 minutes from Hakata Station. It was built in 1588 and is a castle town surrounded by moats. At present, these moats offer an opportunity to view the changing leaves during autumn and the cherry blossoms during spring by taking a cruise. For convenience, you can book this tour through Klook.
➡️ RESERVE A SLOT HERE
---
Fukuoka Castle Ruins and Ohori Park
Ohori Park is adjacent to Fukuoka Castle Ruins. The most prominent feature is a huge pond. The Fukuoka Castle was built during the Edo era and it still preserves its stone walls and towers to remind the visitors of its long history. The castle is open every day for visitors who would like to embrace the beautiful and serene environment surrounding it.
The castle is famous for its cherry blossom trees in spring but during autumn, its gingko trees change colors and is a very ideal spot to view fall foliage.
Nearest Station: Eight minutes on foot from either Akasaka Station or Ohorikoen Station on the subway.
---
Nanzoin Temple and the Reclining Buddha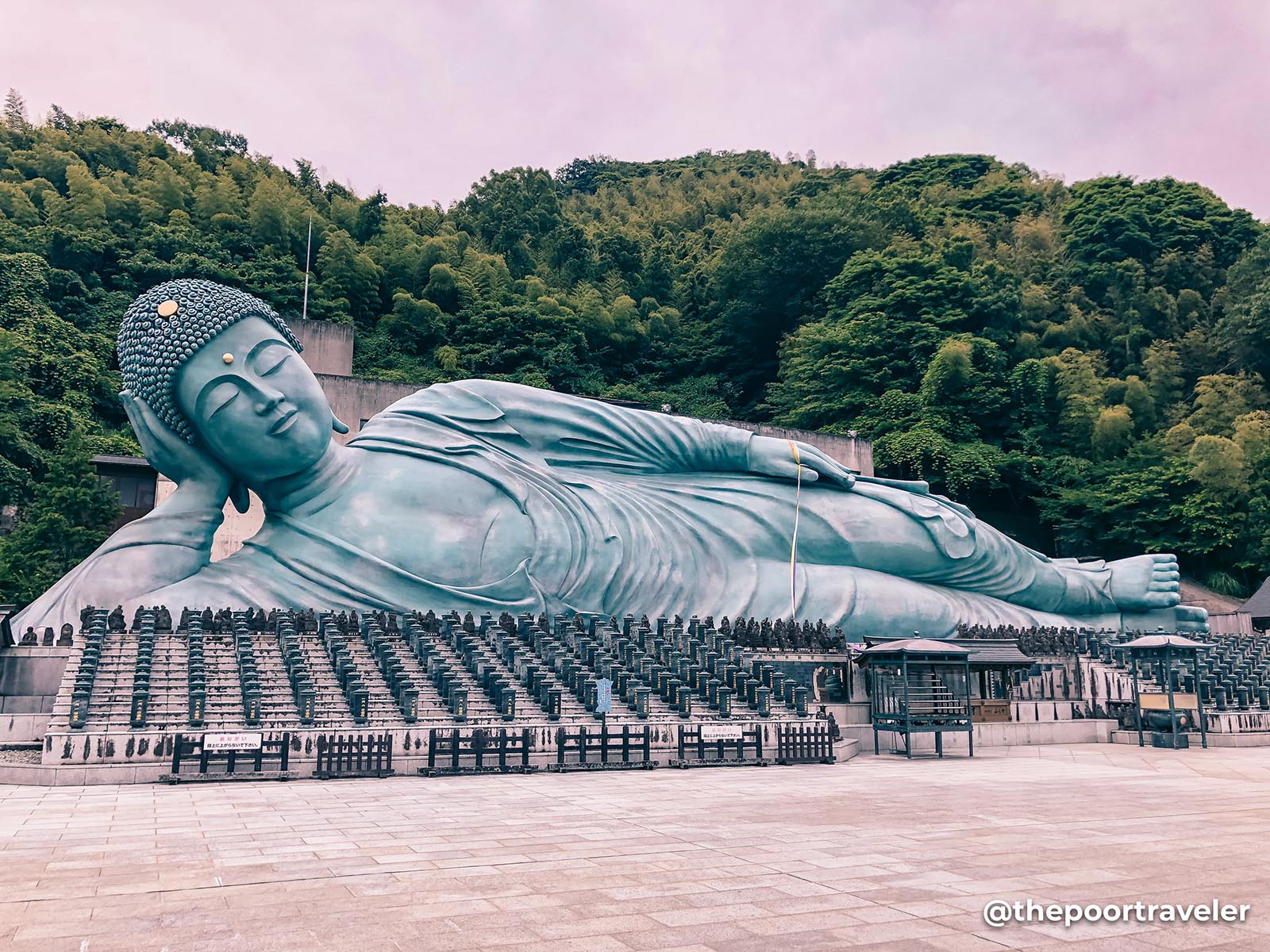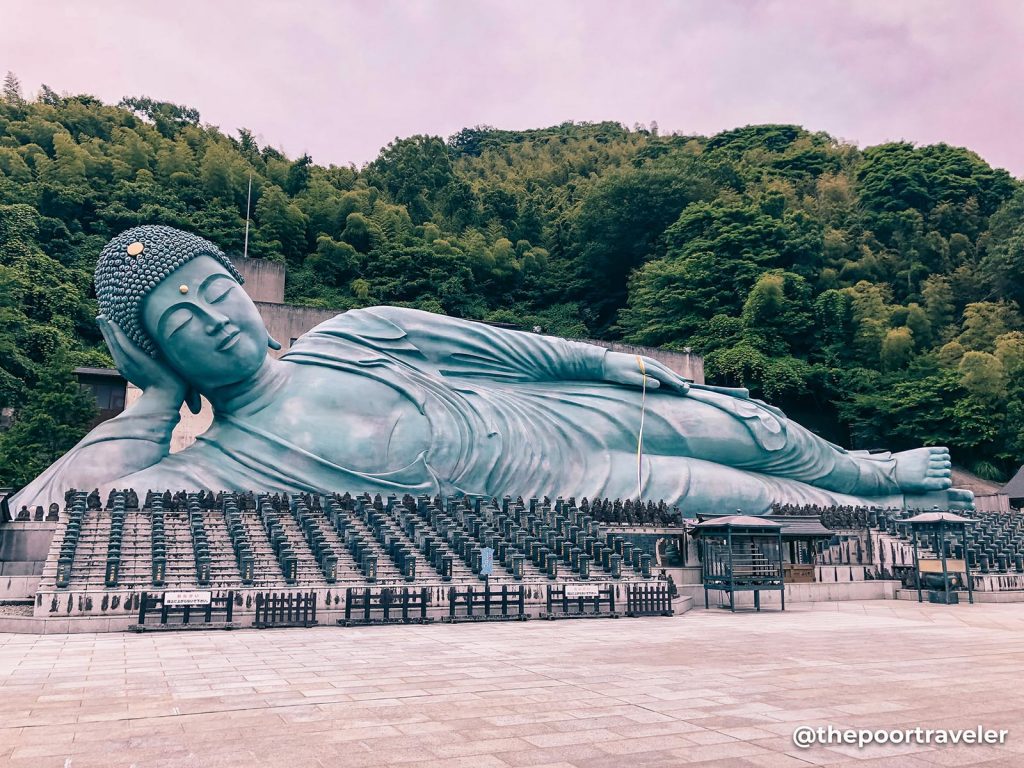 Nanzoin Temple is found in Sasaguri. It is 15 kilometers away from the city that you can access via the JR line. It is one of the most visited Buddhist temples in Fukuoka Prefecture because of its giant reclining Buddha that tourists want to see. It holds the record as the biggest bronze reclining Buddha in the world, stretching to around 41 meters.
Admission Fee: FREE; ¥500 (if you want to enter the prayer room)
Operation Hour: 9:00 AM – 5:00 PM
Location: 1035, Sasaguri, Sasaguri-machi, Kasuya-gun, Fukuoka (15 kilometers away from the city)
Nearest Station: Kido Nanzoin-mae Station (JR Sasaguri Line)
---
Kawachi Wisteria Garden
You probably have seen this wisteria garden on Facebook or Instagram as it went viral because of the perfectly lined purple and white wisterias along a 100m-tunnel. It is crowded during spring because it is when wisterias are in bloom, but it is also a perfect place to catch colored autumn leaves and has fewer tourists compared to visiting the garden in spring.
Admission Fee: ¥500 – ¥1500 (depending on the season)
Open: 8:00 AM – 6:00 PM (mid-April to mid-May and mid-November to early December)
Location: 2-2-48 Kawachi, Yahatahigashi-ku, Kitakyushu City, Fukuoka
GETTING THERE:
During peak season (usually last week of April to first week of May), you can ride the shuttle bus that takes passengers from Yahata Station to Kawachi Wisteria Garden. Otherwise, you can go there by taking Nishitetsu Bus #56 from Yahata Station to Kamishigeta. From there, you will have to walk for almost an hour. It's quite challenging to get to the place, but it's worth it. Make sure you visit at the right season.
Travel time: 20 minutes.
Fare: ¥260.
---
Nokonoshima Island Flower Park
Just like most of the cities and towns in Japan, Fukuoka City has parks that come to life in springtime. Aside from parks, flower parks are usual tourist attraction sites in Japan, flocked by locals and foreign visitors. Depending on the season, you will see different flowers blooming. Nokonoshima Island is less than an hour away by ferry from the city.
Admission Fee: ¥1,200 (adult); ¥400-600 (kid)
Operation Hour: 9:00 AM – 5:30 PM (Monday – Saturday); 9:00 AM – 6:30 PM (Sundays and Holidays; March-November).
Location: Nokonoshima island, Nishi-ku, Fukuoka City
GETTING THERE:
From Hakata Station, board the Nishitetsu Bus from Hakataeki-mae A to the ferry terminal, Noko Tosenba (aka Noko Dosenba). Then take the ferry to Nokonoshima Ferry Terminal. On the island, board the Nishitetsu bus bound for the island park.
Fare: ¥430 (bus to Noko Tosenba); ¥230 (ferry to Nokonoshima Island); ¥230 (bus to the flower park)
Travel Time: 42 minutes (Hakataeki-mae to ferry terminal); 10 minutes (ferry ride to Nokonoshina Island); 13 minutes (bus to the flower park)
---
Canal City Hakata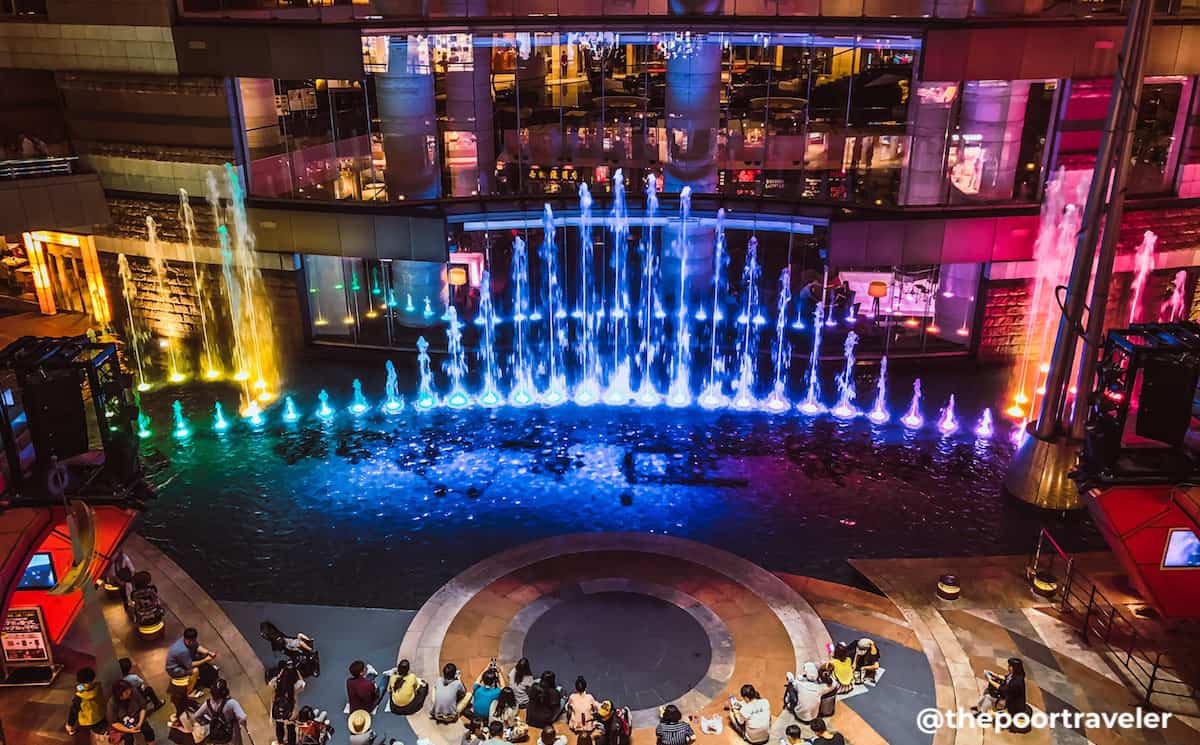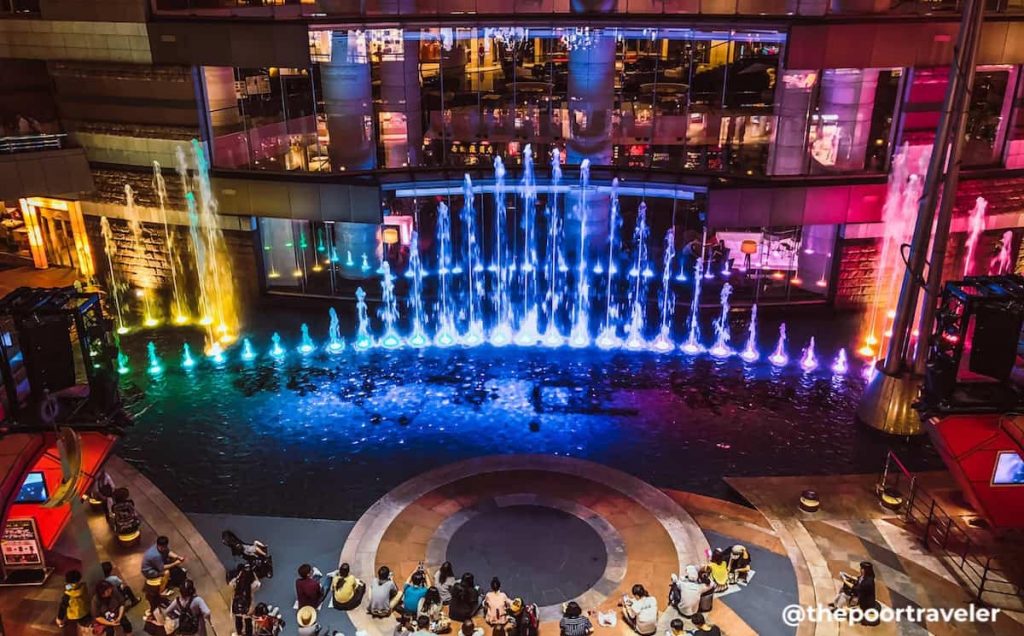 This expansive mall is a shopping and entertainment complex in one. Boasting more than 200 shops and restaurants, cinemas, hotels, and a canal which comes alive with colorful illuminated dancing fountains, you will have plenty of things to do here. If you are an avid fan of ramen, you can go to the fifth level where the Ramen Stadium is located. Here, you will find eight ramen shops offering their own ramen specialties.
Operation Hour: 10:00 AM – 9:00 PM (daily, retail stores) / 11:00 AM – 11:00 PM (daily, restaurants & cafes)
Nearest Station: Hakata Station. From the station, you can either take the loop bus or walk. If opt to go there on foot, the travel time from Hakata Station to the complex is about 15 minutes.
---
Fukuoka Essentials

Fukuoka Pocket Wi-fi
Stay Internet-connected while in Fukuoka!
➡️ RESERVE HERE

JR Pass
Unlimited train rides within the JR network.
➡️ RESERVE HERE
---
Japan Hotel Discounts
---